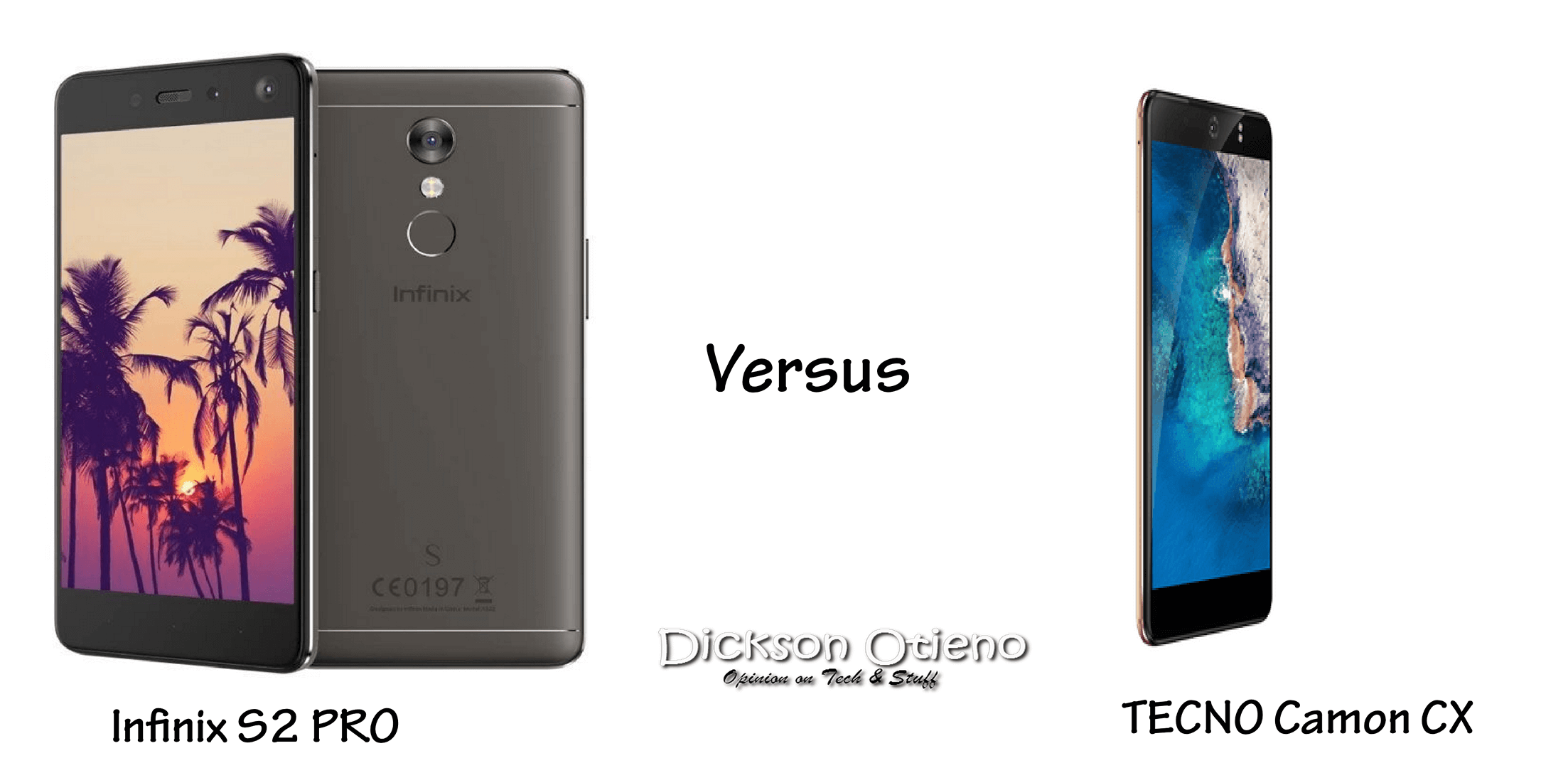 Read:
TECNO Camon CX Review – here
Infinix S2 PRO Review – here
I think it is exciting how phones specs are getting more exciting but at very cheap prices. We now have 3GB RAM and 32GB storage coming at less than 20k, at less than 15k even.
The S2 PRO costs Ksh. 15,700 while the Camon CX costs Ksh. 17,000. I am comparing both as they each attempt to be the ultimate selfie camera.
Differences:
Screen Size and Resolution – Infinix S2 PRO is 5.2 720p HD while Camon CX is 5.5 1080p Full HD. Camon CX wins
RAM and Storage – S2 PRO has 3GB RAM and 32GB storage while Camon CX has 2GB RAM and 16GB internal storage. S2 PRO wins.
Front Cameras: S2 PRO has two front cameras: 8MP+13MP lenses with dual LED Flash. Camon CX has one 16MP front camera. Both win.
Back cameras: S2 PRO has 13MP camera with dual LED flash. Camon CX has 16MP back camera with quad-LED (ring) flash. Both…huh?
Processors: S2 PRO has 1.3GHz Octa-core processor. Camon CX has 1.5GHz Octa-core processor. By numbers, Camon CX wins. But with more RAM, S2 PRO wins.
Android Version: S2 PRO comes running Android 6 Marshmallow. Camon CX comes running Android 7 Nougat. Camon CX wins.
Battery: S2 PRO comes with 3000mAh battery. Camon CX comes with 3200mAh battery. In size, Camon CX wins.
Similarities:
Both support 4G networks
Both have fingerprint scanners
Which is better?
It is hard to choose one. I'm still amazed by 3GB RAM and 32GB storage from Infinix S2 Pro for that price. I think I'd pick more RAM and Storage at a cheaper price over anything else.
I have the Infinix S2 PRO, the biggest problem is the size. If only it were bigger. I have not used the Camon CX except a moments interaction during launch. But it felt good on the hand at 5.5 inches.
Which of these two do you prefer?
Buying?
Read these: