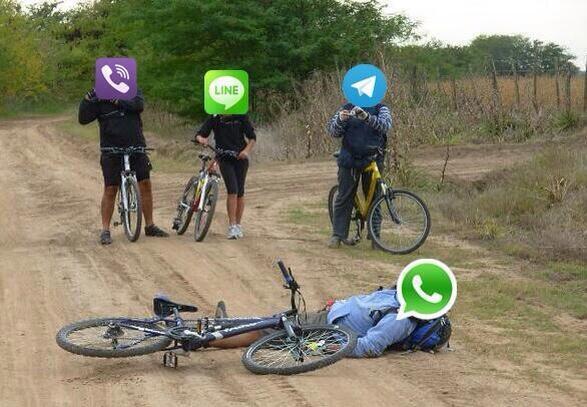 WhatsApp is down. WhatsApp has been down for a while now. (Update: WhatsApp is back. Outage lasted over 200mins) And people are reacting to the outage in hilarious ways on Twitter. As usual Twitter is always pure comedy.
https://twitter.com/AmBlujay/status/859897780000755716
Some people didn't get what was going on. So they restarted their devices a couple of times
A moment of silence for all those who have rebooted their phones all in the name of whatsapp not working #whatsappdown#KOT

— G.K (@KamothoGodfrey) May 3, 2017
Some are waiting to feel popular when the notifications trickle in
If @WhatsApp comes back we might get a whole bunch of notifications at once & momentarily feel really popular #whatsappdown

— Aldís Hamilton (@aldishamilton) May 3, 2017
Some just noticed their life is not "a life"
When you WhatsApp is down and you realize you dont have a life… ?#whatsappdown pic.twitter.com/dN5OcjMWwB

— chai-coffee (@AyeshaUmaiir) May 3, 2017
What are you doing with your life?
https://twitter.com/Dieselkha/status/859890816441036800
Did you try to uninstall and install the app?
A moment of silence to all people who reinstalled the app before checking on Twitter. #whatsappdown pic.twitter.com/YIux6Qv1gF

— Omar Diouri (@OmarsCipCip) May 3, 2017
Here's what's trending:
https://twitter.com/ikieboi/status/859885459366973442
No you're lying:
The WW III has officially began..#whatsappdown

— Eliab njoroe (@elee149) May 3, 2017
Brains blowing up right now for the things they were sending
Everyone that's got @WhatsApp nudes currently pending praying it doesnt go haywire and sent to their full contact list #whatsappdown

— Ben Moore⚔️ (@benji_moore1) May 3, 2017
She had only started responding today after three weeks… then WhatsApp:
When she start typing to reply your message after waiting for 3 weeks then whatsapp down pic.twitter.com/YV6c2CMByL

— J O S E P H (@lifeofarc) May 3, 2017
There are literally hundreds of #WhatsAppDown tweets being sent out right now.
Thank you twitter for letting me know I am not alone #whatsappdown

— Emine Sara (@eminesara) May 3, 2017
That moment when you use Twitter search as your source to confirm whether it's just you or WhatsApp is down? #whatsappdown

— Zahra Akbar (@ZahraAkbarSays) May 3, 2017