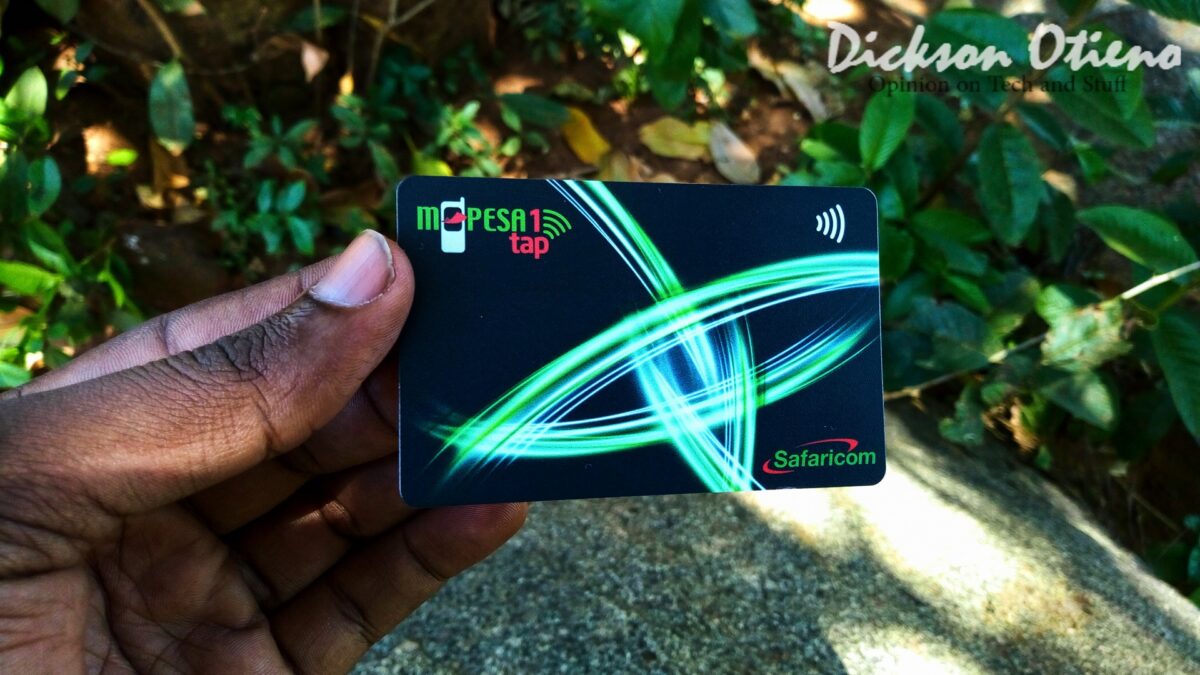 Safaricom has announced the expansion of the 1Tap service to more cities and towns. According to the news, you can now access 1Tap services in Kisumu, Nairobi, Mombasa, Eldoret and Nyeri. Well, and obviously Nakuru where the pilot was done.
Here's my card: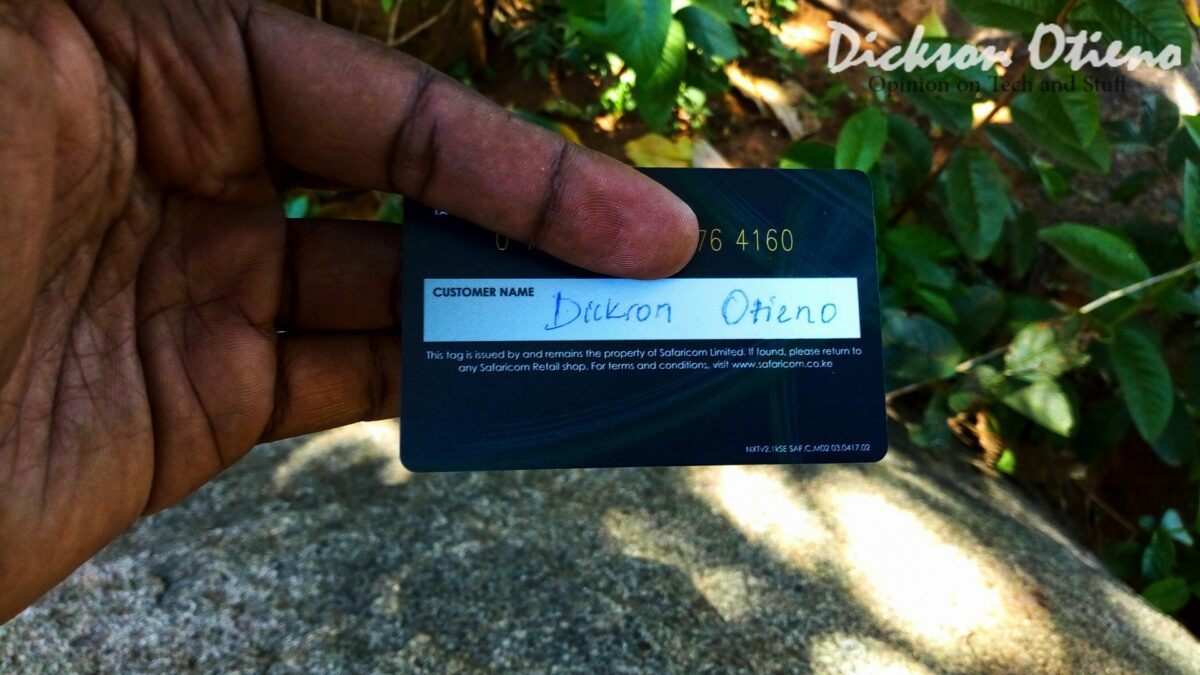 I got it way back in July. I was travelling from Nairobi to Kisumu and when the bus made its usual stop at Nakuru, I decided to use the opportunity to get this 'revolutionary card'. Back then it was exclusively available in Nakuru and there was no way around for me.
It is pretty easy to get a card. I walked into the Shop and told the security guys I was there for the 1Tap card and they directed me to a desk. The attendant pulled out a pile of cards, took one out, asked me my phone number and then a pop up appeared on my phone asking me to authenticate the card. Then came an SMS welcoming me to the new world. LOL
I was happy and wanted to start paying with the card everywhere. And to my disappointment, there was nowhere I could use the card. To date, I haven't used it. But it stays in my wallet. I like pulling it out to shock people that there's actually an M-Pesa card.
Things, hopefully, are about to change now that Safaricom has expanded the service to more cities and towns. The service will be available to all Lipa-na-Mpesa customers and merchants and is meant to make it easier to make and receive cashless payments.
And you have options for this service:
A card – like mine
A wristband – I wish they were real smartwatches so that one could be like I have an M-Pesa smartwatch!
A phone sticker – yes you stick it on your phone like this one:
Apparently, right now you can only choose one between the 3 above. Which is kind of sad. The tags are available at Safaricom Shops in the named cities and towns from Ksh. 20.
The technology uses NFC to establish communication between the tags listed above and the merchant's Point of Sale (POS).
How you pay:
You go to a Supermarket or anywhere. Buy your goods, and the total amount is keyed on the POS gadget by the teller.
Then you tap you Sticker, Card or Wristband on the POS
A message prompt appears on your phone asking you to authorise the amount to pay for the goods with your M-Pesa PIN
You authorise and get a text confirmation.
This is a simple process that takes less than 30 seconds. Comparing it to the long process where you had to open SIM toolkit, go to Lipa na Mpesa menu, click Buy Goods and Services, Enter Till Number, Confirm it is the right number, enter amount, enter PIN, wait for text, tell the Teller your phone number, or read them the transaction code…. Argh!
This definitely makes things FASTER, ACCURATE, and SECURE.
Safaricom promises to, in future, roll out more convenient solutions on the 1Tap platform. For example, if your phone supports NFC, then there would be no need to get a card, wristband or sticker. Safaricom should (and hopefully they will) be able to configure this for you so that you tap your phone on the merchants point of sale device, key your PIN and go.
Some of the merchants where customers can now make payments with M-PESA 1Tap include Shell, Naivas, Choppies, KenolKobil, KFC, Oil Libya, Total and QuickMart.
The Merchant Point of Sales (POS) are tiny gadgets. Some can be placed around the neck. Which is convenient for small businesses and stalls like Mama Mbogas. So if you have any of the tags, you tap it on the Mama Mboga's POS or even if you local barber has one, get the prompt on your phone, authenticate with PIN and go your way.
Here's an example of a POS that you'll find in a supermarket.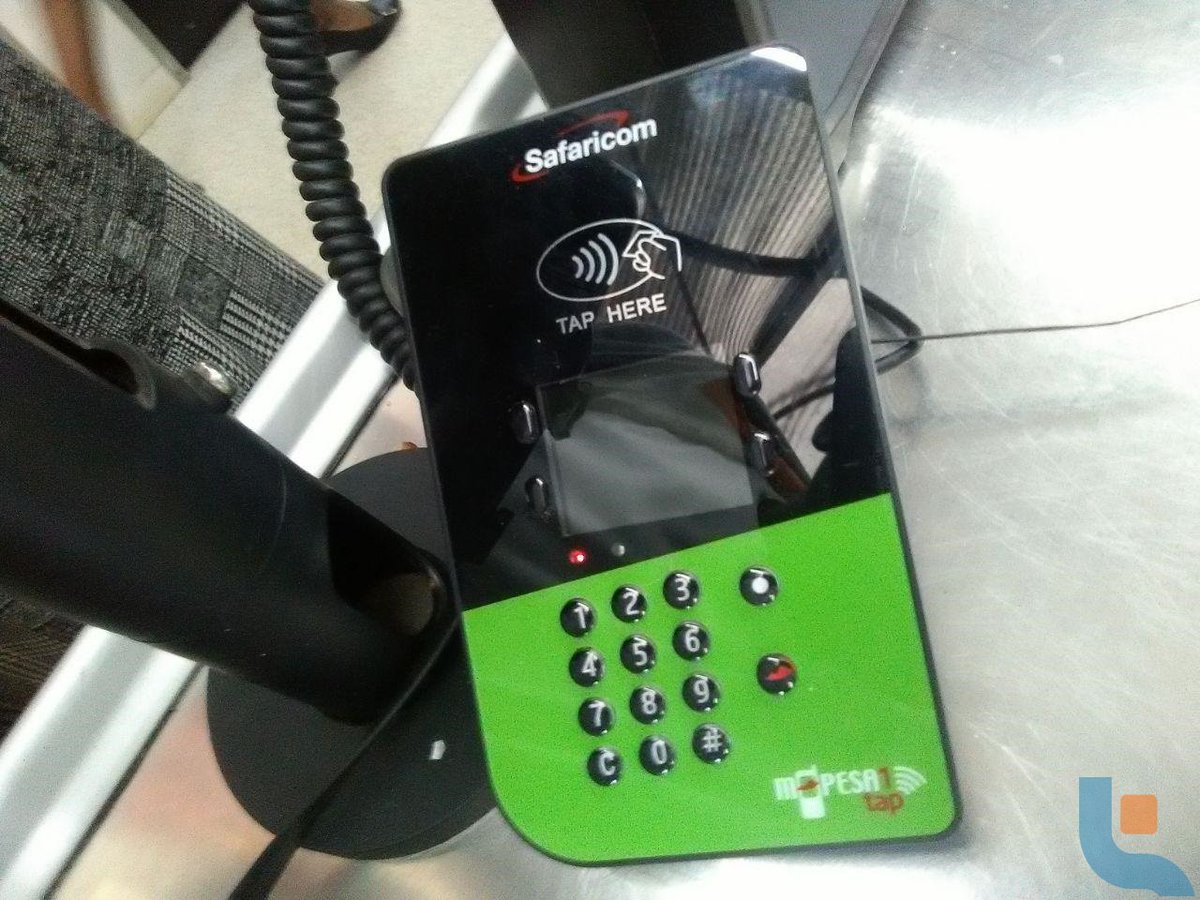 It is quite different, but does the same thing. So if you see a shop with these gadgets above and you have your card, sticker or wristband, you don't have to be that annoying person who wastes time keying in and confirming the till number.
Hopefully, more and more merchants and customers adopt this. What are your thoughts? Have you tried this out? Do you think this will change how we pay?