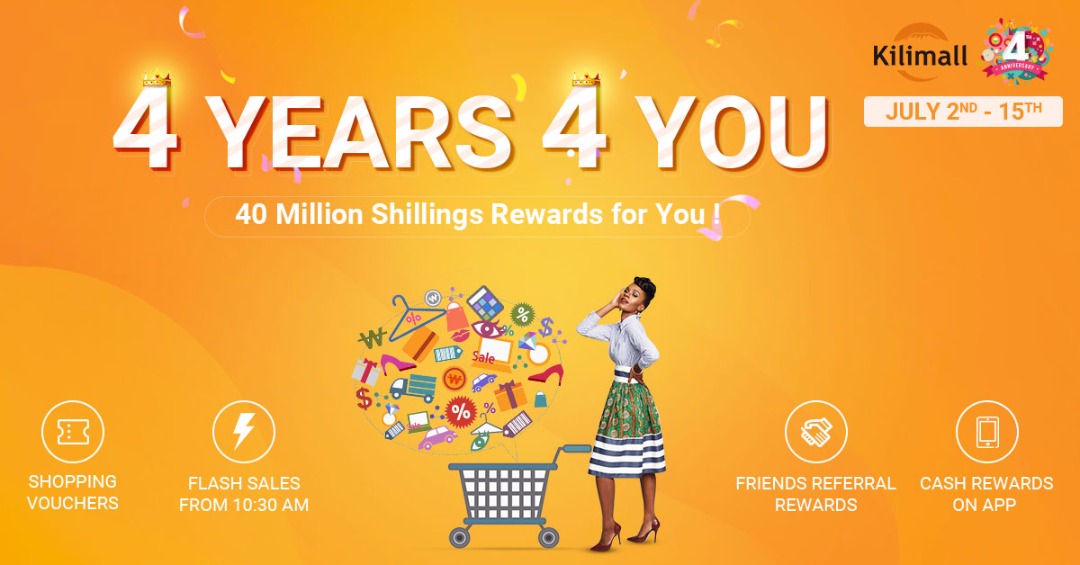 If you're planning to buy stuff in the coming days, then maybe Kilimall's upcoming Anniversary should be in your plans as they plan to have deals and offers that may help you save a lot of money.
This is the 4th Kilimall Anniversary and there's the promise of a lot including the following:
Up to 80% discounts on select products
Direct shopping vouchers to clients – you can start here https://bit.ly/2K7oUNp
Flash sales and much more.
During the past four years, Kilimall has transformed from a small e-commerce company to one of the biggest well-established internet company that is now serving close to a million customers within the three regions. This anniversary therefore is expected to attract new customers as the company celebrates some of the biggest achievements to this far. These are among the biggest achievements:
Advanced and secure payment system– Development of new payment system- Mpesa express channel that is fast, efficient secure & reliable, and incorporation of new payment method known as Lipa na Installment which is a soft way of making payment.
Tracking system that allows you to check your order's status– With the modernized logistic system, customers can now track their orders in transit which is a milestone improvement.
Thousands of product varieties and choices– With the cooperation with some giant brands such as Skyworth, Huawei, Techno, Samsung, Infinix among others, the inventory consist of cutting-edge quality and affordable products from both local and international manufacturers. Customers can select from thousands of available products from different categories such as electronics, home appliances clothes, men/women fashions and many more from Kilimall online platform. This has enhanced customer's satisfaction, which is the integral part of the company's goal.
So if you want a TV for the World Cup, a new smartphone to replace your old device, clothes, or even household items, this should be a good time to prepare to get one starting 2nd July. So what will you be getting?