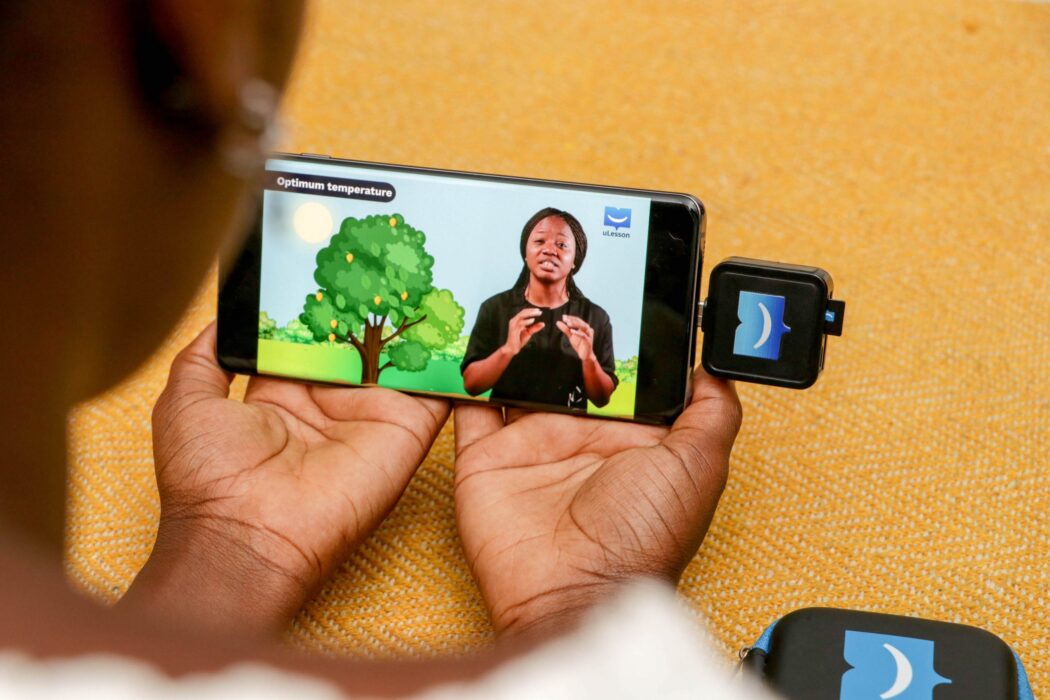 Edtech startup, ULesson is a platform that wants to revolutionise the way students learn and prepare for their exams in preparation for higher education and what comes after. Launched this year, the platform seeks to build a learning experience unprecedented in its richness, scope, interactivity and effectiveness for the African market.
The startup has announced it has recently closed a $3.1mn seed-level round led by TLcom Capital with participation by Sim Shagaya – the founder, to address infrastructure and learning gaps in Africa's education sector. Targeting secondary school learners across the West African region, uLesson will launch officially in February 2020, having been in development and beta testing for 12 months. The seed round announced today allows the team to take the product to market in West Africa, before looking to develop educational content and a product for the East African market.
uLesson has built the technology to deploy curriculum-relevant content via smartphones, that allows learners to use the product without concern for internet limitations and costs. uLesson's mobile offering rests on three pillars: academics, media & technology and curriculum content is delivered via streaming and SD cards. To-date, the Jos-based team has produced over 3,000 richly animated, personalised video learning modules, quizzes and tests that will be available on the uLesson android app, via a subscription model, in Q1 2020.
The platform allows learners to experience personalised learning, practice tests, region-specific mock tests and assessed performance and progress for students and parents, including rich reporting dashboards for detailed analysis. Tailored towards the WAEC curriculum region (Nigeria, Ghana, Sierra Leone, Liberia and Gambia), uLesson's current content focuses on core subjects of Maths, Physics, Chemistry and Biology for secondary school students.
Speaking on the investment and upcoming launch of uLesson, CEO Sim Shagaya says, "Education systems across Africa are in crisis and uLesson has been developed to radically shake-up the system and bring better access to high-quality curriculum-relevant educational content to learners across the continent. As our population grows extremely rapidly, the current public and private approach to education investment is chasing a goal that is moving further away. We want to lower the entry point for access to education for young Africans, and technology is the only way this challenge will be met. With this in mind, today is not just an investment in uLesson – it's an investment in Africa's future."
As part of the seed round, Ido Sum and Omobola Johnson, partners in TLcom's executive team, will join the board alongside former Konga CEO, Shola Adekoya. Speaking on the investment, Ido Sum adds, "In uLesson, we found a company that fitted perfectly with our ethos – an entrepreneur-led startup building affordable, mass-market mobile first solution tackling one of Africa's largest challenges. In Sim, we have an entrepreneur with an unrivalled track record in building technology products for Africa. His team is building solutions for a massive opportunity, and we strongly believe they are about to make a serious dent in the education market across the continent."
The global edtech market is projected to reach $341bn and Africa will be a key market fuelling this growth, due to rising smartphone adoption on the continent combined with a high youth population [40% of Africans are under the age of 15]. At present, student to teacher ratios in some parts of Nigeria are 1:70, compared to an average 1:10 in the United States. The dearth of quality teachers, tutors and educational infrastructure on the continent, according to Shagaya, represents a ticking "youth bomb" for the region's unprecedented demographic growth.
Shagaya concludes, "We work collaboratively, passionately & relentlessly, utilizing every tool available, to deliver high quality affordable education to all Africans. Education, Financial Inclusion & Health need to be tackled on the continent. Remarkable progress in developing financial products has been made. Of the other two, Education represents an immediate opportunity that can be addressed with the tools provided by digital technology (smartphones, wireless internet, data storage and analytics). uLesson believes it has a model that can work in substantially addressing these challenges."