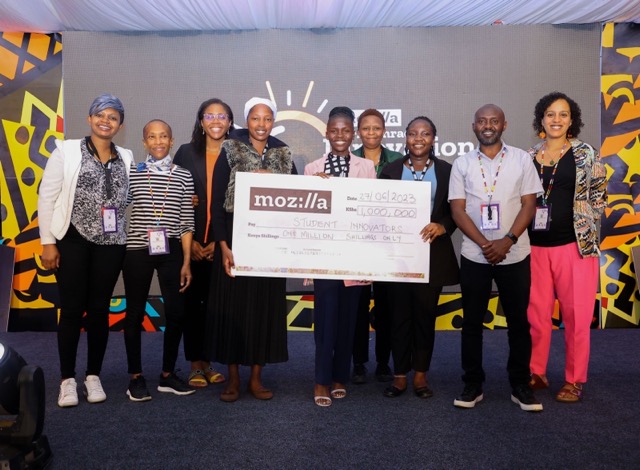 Kenyan innovators have emerged victorious in the Mozilla Africa Innovation Challenge, securing a total of Ksh. 13 million in grants. The event, held in collaboration with the Nairobi City County Government (NCCG), took place at Nairobi's Arboretum Park and aimed to identify and support tech entrepreneurs and students with groundbreaking ideas.
The Mozilla Africa Mradi Innovation Challenge showcased a rigorous pitching and selection process, ultimately recognizing three tech start-ups and three student innovators.
The successful start-ups were
Getpayd,
Deaf Elimu, and
Hali Halisi
The student innovators included Classify Me, Audred, and Mama Pesa.
These talented individuals not only received significant grants but also gained access to technical assistance to further develop their products and position themselves in the market.
The program was specifically designed to identify African tech entrepreneurs and students who could benefit from an acceleration program. This initiative aims to provide them with technical support, access to grants, and ultimately, market access for their innovative products. The program is rooted in the belief that innovation should be led by and catered to the unique needs of African users.
During the opening ceremony, H.E Sakaja A. Johnson, representing the Nairobi City County Government, expressed the government's commitment to supporting tech start-ups and innovators. He emphasized the importance of providing access to grants and enabling these entrepreneurs to secure venture capital investments, both locally and globally. As part of this commitment, an incubation hub was established at the Eastlands Library in Maringo Hamza Ward in Makadara. This hub supports over 20 start-ups by providing assistance in investor readiness and coding for children aged 7 to 13 years.
The Mozilla Africa Mradi Innovation Challenge was officially launched in May 2023, calling on tech innovators across Africa to develop creative solutions that cater to the continent's unique needs. Mitchell Baker, CEO and Chairwoman of Mozilla Corporation, highlighted the company's ongoing efforts to support innovative initiatives. Over the years, Mozilla has distributed more than $20 million through fellowships and awards to support individual and collective actions that nurture unique innovations benefiting communities.
According to the 2022 Kenya Start-Up Ecosystem Report by Disrupt Africa, Kenya is home to 308 active tech start-ups, employing over 11,000 Kenyans. However, the report revealed that only 50% of these start-ups, primarily Fintech companies, have undergone some form of acceleration or incubation. This underscores the significance of initiatives like the Mozilla Africa Mradi Innovation Challenge in providing much-needed support to the tech start-up ecosystem in Kenya.
John Omo, the Secretary-General of the African Telecommunication Union (ATU), emphasized the importance of advancing Africa's digital economy. The ATU aims to create harmonized digital economies in the African region through standardized policy and regulatory frameworks. Kenya, in particular, stands out as a regional leader in terms of access to digital infrastructure. By 2030, it is estimated that 55% of jobs in Kenya will rely on digital skills, highlighting the growing importance of nurturing and supporting digital innovation in the country.
The success of the Kenyan innovators in the Mozilla Africa Innovation Challenge serves as a testament to the incredible talent and potential present within the country's tech ecosystem. With access to grants, technical assistance, and market opportunities, these innovators are well-positioned to further develop their products and make a significant impact in their respective industries. As Kenya continues to prioritize digital skills and infrastructure development, initiatives like the Mozilla Africa Mradi Innovation Challenge play a crucial role in fostering a thriving and inclusive digital economy.