Infinix, a prominent player in the smartphone industry, celebrated the grand opening of its flagship store in the vibrant heart of Eastleigh, Nairobi, on September 21st, 2023. The event took place at the new BBS Mall, marking a significant milestone for the company and underlining its commitment to providing a top-tier shopping experience while showcasing its latest smartphone innovations.
The grand opening event was attended by an enthusiastic crowd, including Infinix fans, local dignitaries, celebrities, media representatives, bloggers, and brand partners like Safaricom and device financing provider Easybuy. The event offered an array of highlights, including speeches from notable figures, a ribbon-cutting ceremony, exclusive discounts and promotions, live product demonstrations, and complimentary giveaways with every purchase.
"Infinix is excited to open its flagship store in Eastleigh, Nairobi," stated Shane, the Brand Manager at Infinix. "This store signifies our unwavering commitment to delivering high-quality smartphones, accessories, and an exceptional shopping experience. We eagerly await both our loyal customers and newcomers to our new home."
Infinix says the flagship store is a testament to their core values of innovation, quality, and customer-centricity. It has been meticulously designed to provide customers with an immersive and memorable experience. With the opening of this store, Infinix aims to strengthen its presence in the Eastleigh community and offer residents easy access to its latest technological marvels.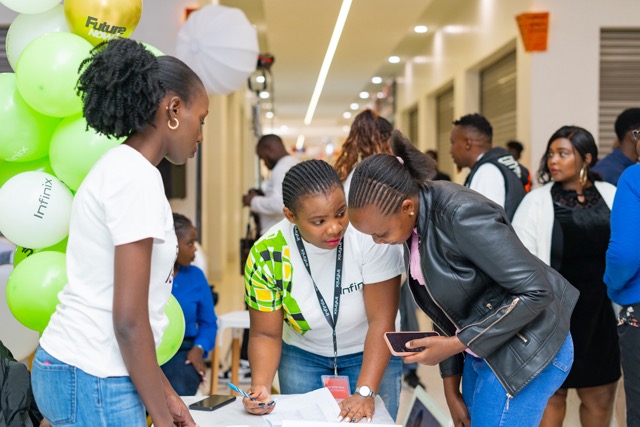 Deals at the Infinix Flagship Store:
Attendees had the opportunity to witness live demonstrations of Infinix's latest offerings, including the ZERO 30 5G and NOTE 30 Series innovations, presented by Infinix's expert team. The first customers were also treated to complimentary giveaways, adding an extra layer of excitement to the grand opening event.
One of the standout offers available at the new flagship store is the zero deposit option for purchasing any NOTE 30 Series device through the "lipa mdogo" program offered by EasyBuy. This initiative is designed to make Infinix smartphones more accessible and affordable to a wider audience.
The grand opening event was open to the public, emphasizing Infinix's desire to engage with and give back to the local community. It was a day filled with excitement and celebration, providing a glimpse of what customers can expect when visiting the Infinix flagship store in Eastleigh.
For those interested in learning more about the grand opening event and staying updated on Infinix's latest developments, the company encourages them to visit their social media pages on Facebook, Instagram, X, and TikTok. These platforms will provide valuable insights and updates about Infinix's ongoing commitment to delivering innovative technology and exceptional customer experiences.