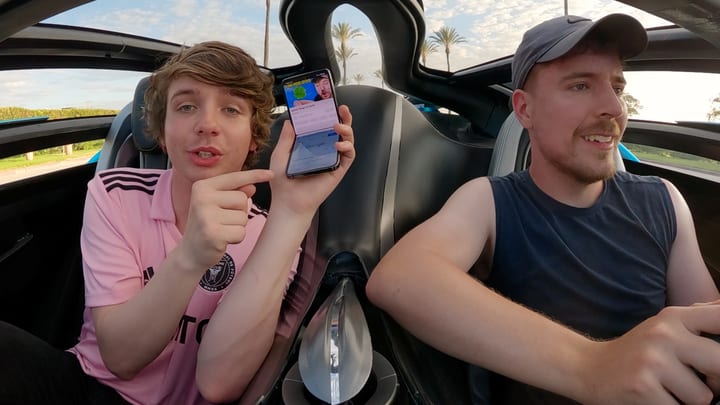 In a significant move, Samsung has joined forces with MrBeast, a renowned YouTube personality, to endorse its Galaxy lineup of devices for vlogging. This collaboration is poised to reshape the way we perceive mobile content creation, showcasing the capabilities of Samsung's Galaxy series, including the Galaxy S23 Ultra, Galaxy Z Flip5, and Galaxy Z Fold5, as the official mobile vlog devices in MrBeast's videos.
The announcement of this partnership comes at a time when tech enthusiasts and content creators have been lining up to buy the new iPhone 15 series from Apple. Samsung's move to partner with MrBeast, the most subscribed individual YouTuber globally, sends a strong signal of intent in the competitive world of mobile technology.
Samsung's Vision for Collaborative Creativity
In a press release issued by Samsung, the company emphasised its commitment to fostering collaboration within the creator community. The partnership with MrBeast, known for his imaginative challenges and philanthropic endeavours, reflects this commitment. Samsung's aim is to empower creators, both aspiring and professional, by showcasing the possibilities that a Galaxy smartphone offers for content creation.
Janet Lee, Senior Vice President of Mobile eXperience Business at Samsung Electronics America, stated, "With Samsung Galaxy, creators can do some amazing things. We want to empower creators of all kinds and show them what's possible with a Galaxy device in their hands. Together with MrBeast, we hope to inspire others to get out there, create, and uplift."
The first video resulting from this partnership was released on September 16. In this video, MrBeast explores a vast selection of cars ranging from as low as $1 to as high as $100,000,000. What sets this video apart is not just the subject matter but also the impressive capabilities of the Galaxy S23 Ultra and Galaxy Z Flip5, which were used for filming.
Samsung says MrBeast's decision to use Samsung's Galaxy devices is grounded in their outstanding features. These devices offer a combination of ease of use, extended battery life, high-quality video recording capabilities, and unique form factors that make them ideal for vlogging and content creation.
MrBeast reason for working with Samsung
Donaldson, popularly known as MrBeast, shed light on the reasoning behind choosing Samsung's Galaxy devices for his vlogs. He emphasized, "We chose Samsung's Galaxy devices for the high-quality footage they produce, their simplicity of use, and their versatility. The Galaxy S23 Ultra and Galaxy Z series devices translate into better content; it's as simple as that."
Samsung's collaboration with MrBeast signals a new era for mobile content creation. As they showcase the capabilities of Galaxy smartphones in creating high-quality, engaging content, they inspire creators worldwide to explore the possibilities within their grasp. Samsung's commitment to empowering creators aligns perfectly with MrBeast's mission of pushing creative boundaries and making a positive impact on the world.