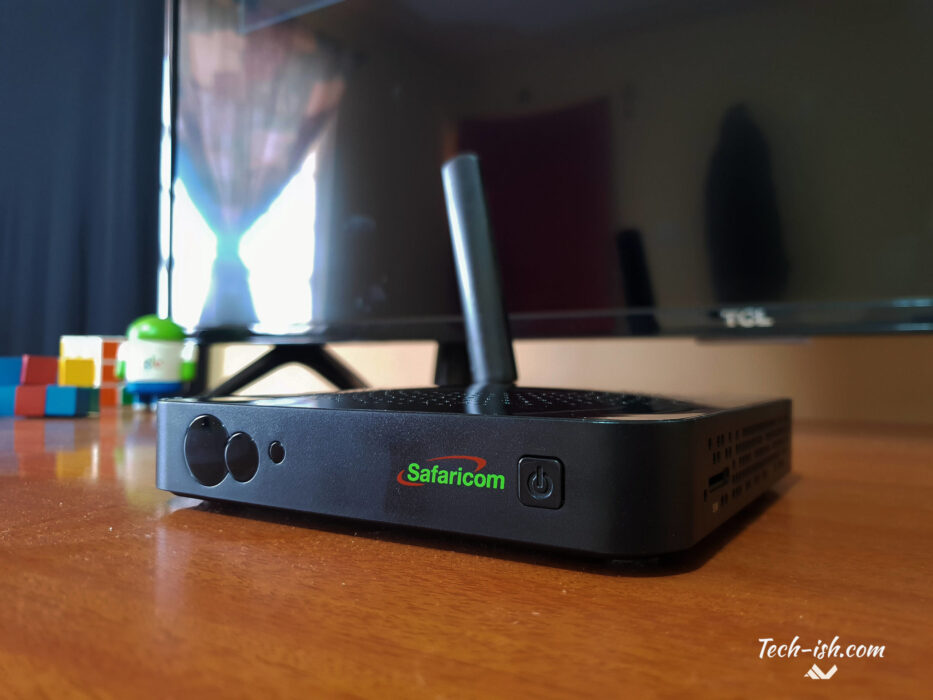 Update: Review of Safaricom's new Android TV box in 2020 – Article here
---
I started using this Box in the second week of this year's World Cup. It was the reason I picked up the TCL 43 inch Full HD non-smart TV from Kilimall because I believed, and still do, that there was no reason to get an expensive Smart TV when a simple box could make your TV much smarter.
There are a couple of limitations with normal Smart TVs. Apart from being quite expensive, you are also tied into a limited ecosystem. For example if you get an LG TV with WebOS, or a Samsung Smart TV, you will be limited to the apps that can run on these platforms. But when you get an Android Box, you are able to install any Android App you want and customise everything to your taste.
There are many TV boxes around. Not all that run Android are classified as Android TV boxes. Android TV specifically is Google's customisation of Android to make an interface you can use on your TV easily. It is like the way we say stock Android on Android One phones. But since Android is open source, there are also other Smart boxes that run on Android. The Safaricom Digital TV box is part of Google's Android TV project.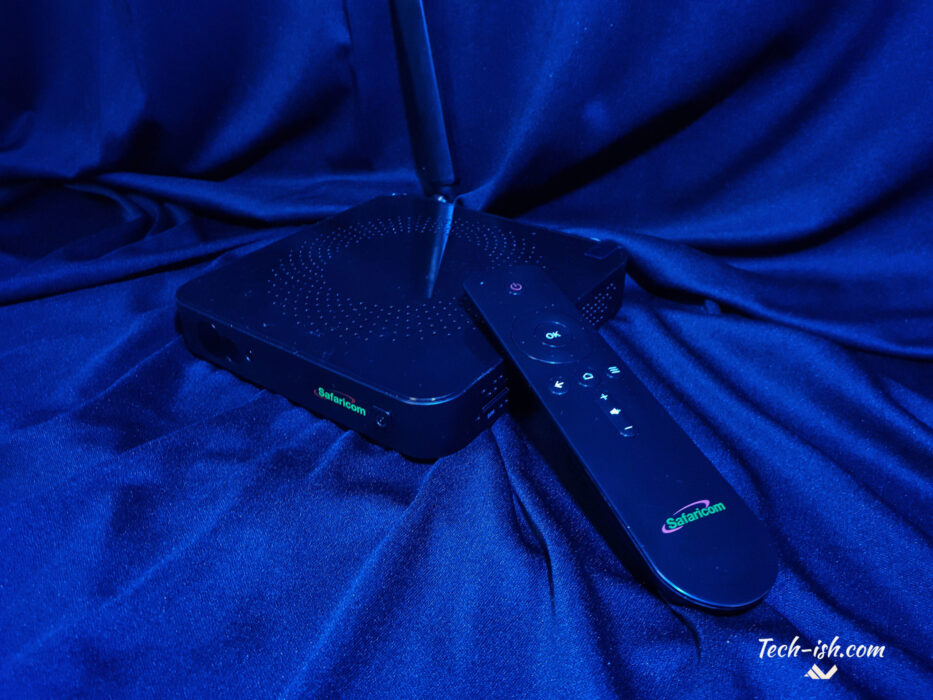 Safaricom Box Android TV Specifications:
| | |
| --- | --- |
| Processor | Quadcore Processor |
| RAM | 2GB RAM |
| Storage | 32GB Internal Storage |
| Operating System | Android 7 Nougat |
| Network | 4G/LTE Support |
| Extra | WiFi, Ethernet, Bluetooth Low Energy, in-built Chromecast (now Google Cast), DVB-T2 Receiver for Free-to-air channels, DLNA Support |
| Price | Ksh. 9,999 (I thought it was 5,999 but a Safaricom TEXT a few minutes ago says 9,999 so maybe that was an offer) |
So this has been my setup for just over 3 months. The illustration I've made below shows what I would want it to look like, but I am not good with cables, so try imagining a couple of cables passing around at the back.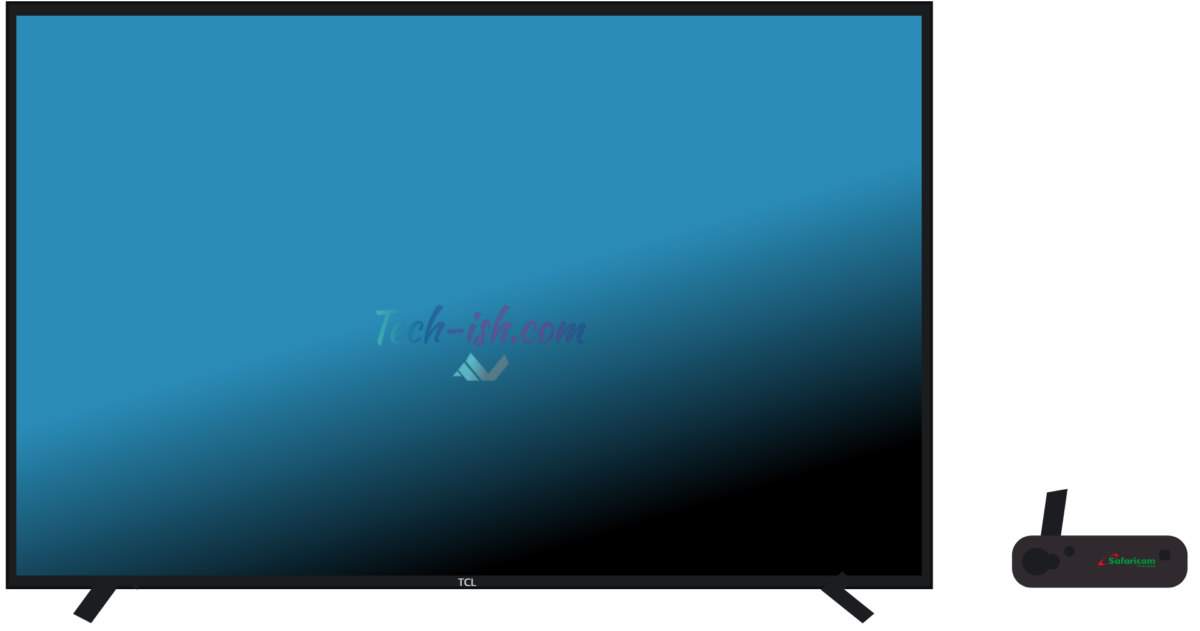 In my setup, the TV is connected to the Box via HDMI. And then the box is connected to the Woofer via the 3.5mm jack. It is also connected to power, and to an external aerial for free-to-air channels.
But this is what the back of the Box looks like: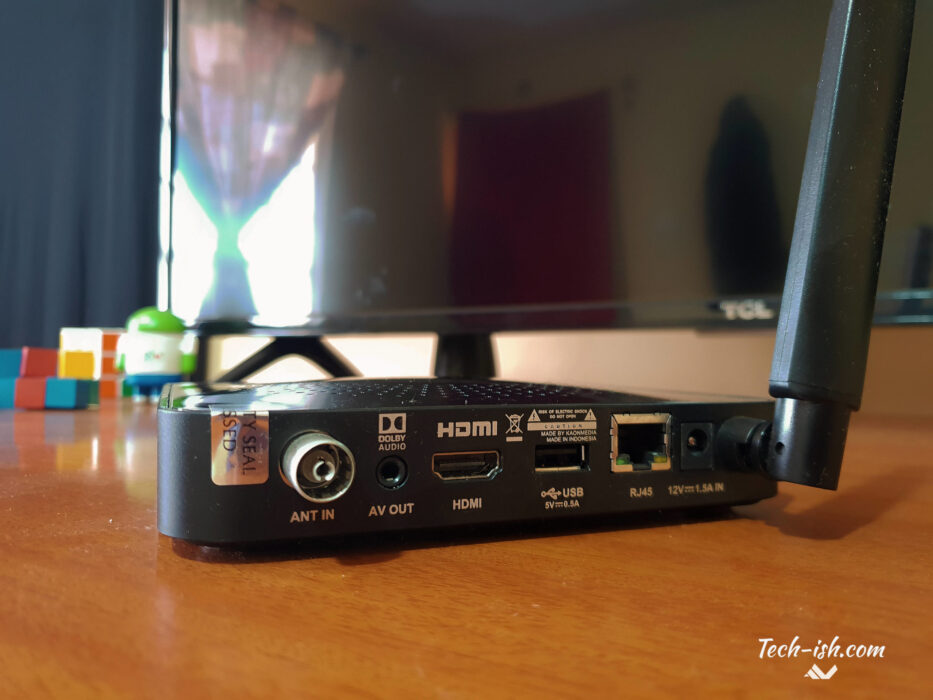 And these are the respective things each port does on the Safaricom Box:
ANT IN – Antennae In for the external aerial that allows you access to free-to-air channels. I use the internal small aerial I got from my Startimes box years ago. You can use an external aerial depending on your location and how strong the signal is.
AV Out (with DOLBY Audio) – I use it as the 3.5mm headphone jack to the woofer. It can also be used as the Video Out port for TVs that use those 3 red, yellow, white AV cables. This is included you don't need to buy.
HDMI Out – Sends Video and Audio to your TV
USB – You can use it for a lot of things. I use it to read my 1TB Hard Drive. You can use it to charge your phone as it is rated 5V/0.5A but that will take time to charge. You can use it for an external keyboard. You can use it for a Game Controller and so much more.
Ethernet Port – If you have home internet, you can connect the box directly to the router via the RJ45 connector to access internet. I've never used this port.
DC IN – This is the charging port to power up your Box.
Antennae – That black raised thing I believe is for the box to connect to 3G or 4G networks because the box has an in-built Safaricom SIM card.
Unboxing:
I can't seem to find the pics I took when I unboxed the device but this is what you get inside the box:
the digital box
HDMI Cable
Charger
AV cable
Remote
Batteries
A lot of paperwork
Setting Up your Safaricom Box: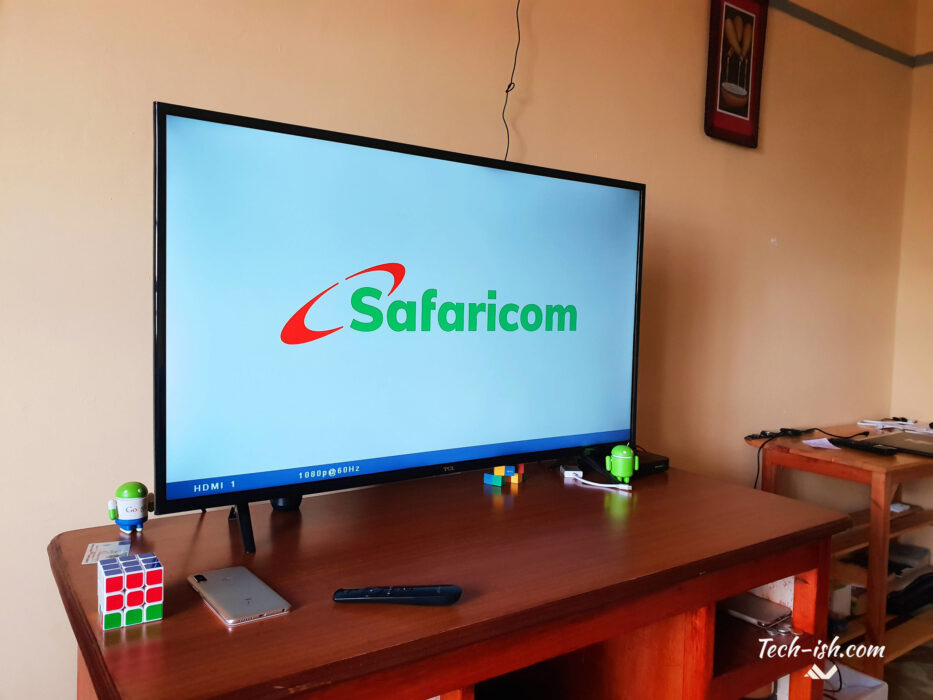 This is an easy thing. You need to connect your TV to the box either via HDMI or using the AV cable included. Connect the box to power and switch your TV to HDMI or AV mode. Thereafter follow the simple steps on screen, the remote pairs automatically (it uses Bluetooth Low Energy tech, meaning you don't have to point it at the box when using), you connect to WiFi or ethernet, you sign in using your Google account and you're done. Only thing remaining is downloading the apps you need from Google Play Store.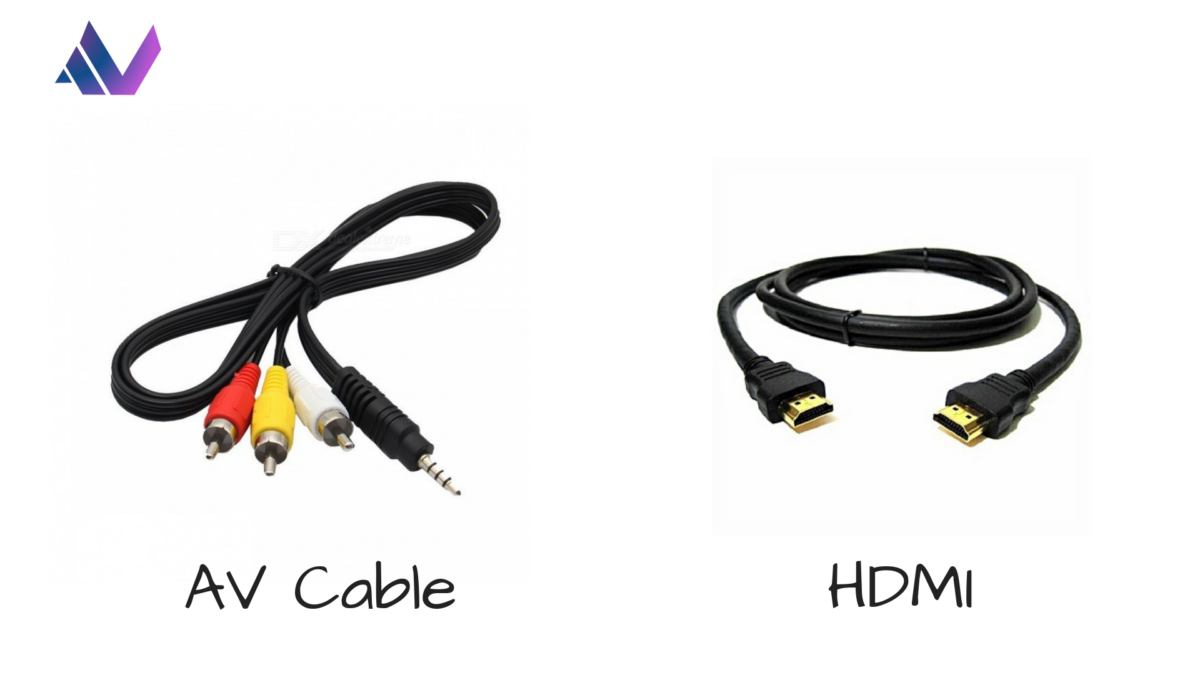 ---
So more than a month ago, I requested guys on Facebook.com/techishkenya to ask me questions about the box before I published the review. The questions were so many and I hope to answer everything in this review.
---
https://www.facebook.com/techishkenya/posts/1025904790916757?xts[0]=68.ARCLDgaz2SMrd8rHBlMhA_DGWZvVgPGh-f6zLA61BPWwC-jhmIU2-CG2EKyWr6di7P43sNrt-6vlwhs1YTn82pmK2WbZxGalPwfXZsowBSr1gEzYOc6hUVg4SxMI6eaz8yZOeAG5uPyvx46GpZdqAR3gI4ZFGU30EWgDJhe9lwztZ2pZ6lSryA&tn=-R
What's the size of the box?
It isn't big. I know Safaricom call it the BigBox. But it is quite small. This image should help. The Xiaomi Redmi Note 5 isn't a big phone. And here is how it compares to the Safaricom Big Box: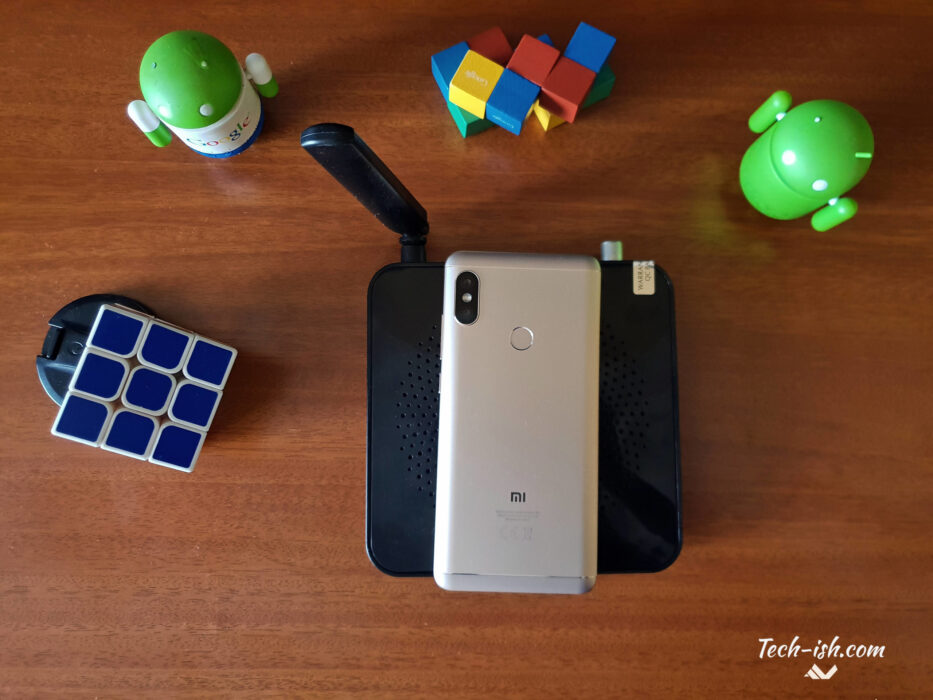 Live TV:
Different people will be getting the Box for different reasons. If your main motivation is the fact that you can access free-to-air channels forever with no charges, then all you need to do is connect the TV to an aerial. Like I said I've connected mine to one and from it I can access all local channels. The app to use here is the one called Live under Safaricom apps. It will scan and then list all the channels available in your location. Although I feel like getting a 10k box for this sole reason is totally overkill. Many will be getting this for internet streaming.
Internet: 3G/4G Internet Vs WiFi and Ethernet?
I use my box with WiFi. I connect it to my Faiba4G modem. If you have internet at your home, you can connect to the internet via the ethernet port or via WiFi. If you don't have a router or home connection, you can still buy normal bundles on any network and create an internet hotspot from your phone and connect that to the box.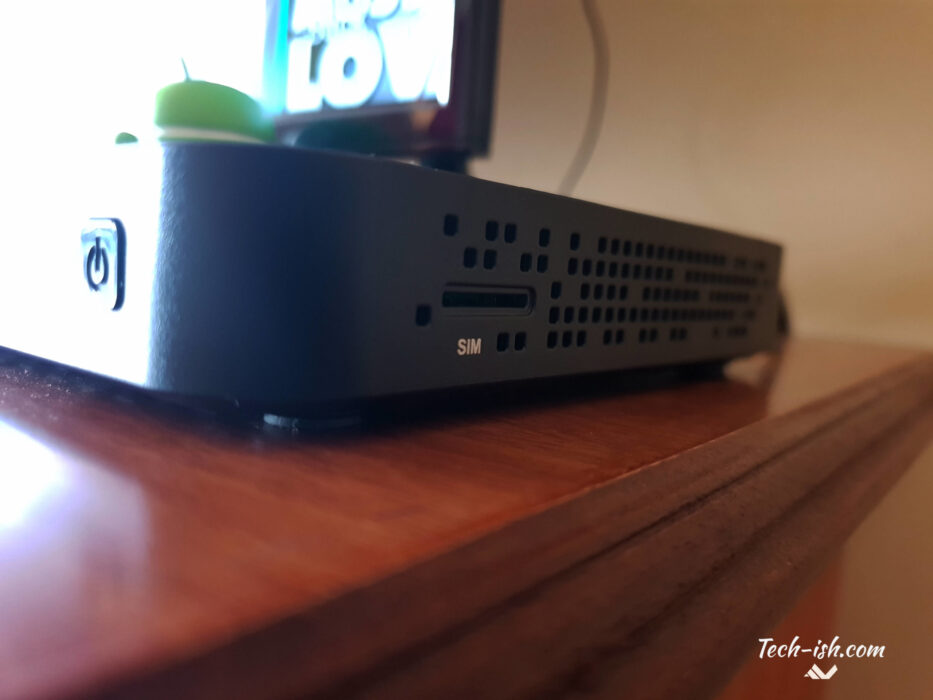 But the box has an "in-built" SIM card. The phone number is at the back. And you can use that SIM card to connect to the internet after buying Safaricom's special bundles on *400#.
Thrice I have tried buying the bundles to test out how it works, but I couldn't get through, always getting an error. So I decided to keep using Faiba4G internet.
How to Buy Safaricom Android TV Bundles:
Dial *400#
Select Option 3 "Safaricom TV"
Select Option 1 "BigBox"
Enter Mobile Number of Decoder under the Box
Select Buy Home Bundle
Choose between the options for Easy Data Bundles given
Pay via Airtime or via M-Pesa
Safaricom TV Easy Bundles Prices:
| | |
| --- | --- |
| Easy 30 | Easy 50 |
| 30GB | 50GB |
| Ksh. 3,500 | Ksh. 6,000 |
Easy 30 Bundle is valid for 30 days. While Easy 50 is valid for 45 days. If you stream a lot, 30GB or 50GB seems very little. But if say your 30GB runs out on day 15 of the 30 days validity, you'll still be able to access internet at reduced speeds of 256Kbps (source TechArena's Review).
Using Safaricom Box for Home WiFi:
If you don't have home internet, or a modem to tether, and you don't want to be using your phone as a hotspot, then buy Easy Bundles. With that you can tether the connection from the Box so that you have Home WiFi. This WiFi can be accessed by up to 8 people. Creating a hotspot is easy.
Android TV Applications on Safaricom Box: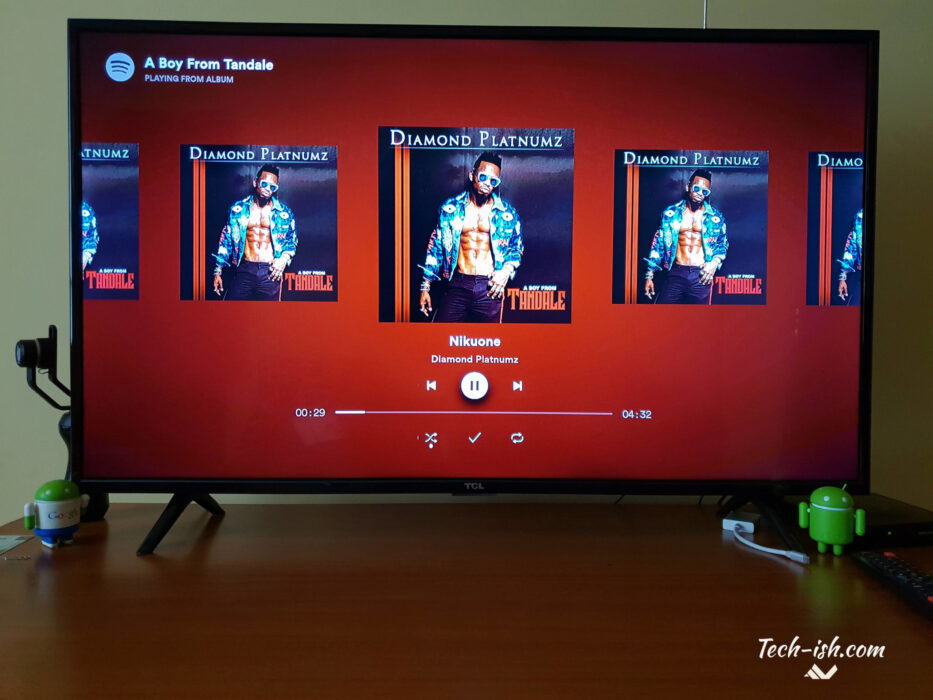 There's Google Play Store from where you can install apps and games. The apps available are not that many as you'd find on your normal Android phone. This is because app developers need to make their normal apps compatible with Android TV.
The box comes with Showmax, iFlix, and TED streaming apps already installed. During the World Cup I used iFlix to stream the Semis and Finals.
But you can sideload apps that aren't available on Play Store. And use them. Terrarium was my favourite to use for streaming free movies. But that has since been discontinued, and I am yet to find a replacement.
Netflix on Safaricom TV Box:
If you want to get this box for Netflix-ing. Sorry. Yes you may see the app on Google Play Store and decide on installing it. But when you launch it, you'll get an error code. That's because Netflix certifies Android TV boxes. And this box isn't certified. I have hoped for a system update that would allow Netflix. But up to now, nothing yet. This is a big deal breaker for many people.
Sideloading Apps on Safaricom TV:
When the box was very new, before a system update, under Safaricom apps, there was an app that allowed an easy way to install apps when you had sent the .APK files to the internal 32GB storage. But this is no longer available after a system update some while back. However, that shouldn't be a problem:
Go to Settings
Security
Allow 'Unknown Sources'
Go to Play Store and Install "Sideload Launcher"
Also Install "X-Plore File Manager"
I found X-Plore to be a way better file manager compared to ES File Explorer which has ads all over. From X-Plore you can send any file, app, or document over your WiFi, ethernet connection to the TV Box. As such you can send .APK files from your phone or laptop to the device and install them. That's how I've managed to install Spotify, TeaTV (which should be a Terrarium substitute but isn't working), and Blokada to block ads.
Sideload launcher will allow you to view all installed apps that may not appear on the Home screen, and also to access full settings like on an Android Phone, as the the normal settings app is very limited.
You can find .APK files to install on your Android TV from APKMirror.com. Make sure you download the Android TV version of the app. Don't be like someone who installed the Spotify phone app and was sending pics wondering why it looked weird on their TV.
Blokada is available on https://blokada.org/index.html.
Performance:
I've not had any issues since the System Update. At first YouTube would crash a lot. And I would have to reboot the box, or clear data.
Whether playing a game, streaming a movie, watching on YouTube, Aljazeera, Haystack App, Vimeo, or playing local files, the device has handled everything smoothly and quickly. From the pics you can see many vents (holes or whatever you call them) that allow the processor to cool down incase of any hard tasks. But I've never felt the box heat up.
Also, since it is bluetooth controlled, if you're using the remote, or network controlled, if you use the phone app, you don't have to have the box on your table or next to the TV, you can hide it anywhere.
Playing Local Files:
There's 32GB of internal storage. Which I still haven't found a good way to make use of. No matter the number of Apps I'd want installed, using up that storage would be so hard. But remember there's a USB port at the back where you can attach a USB Flash Disk, or Hard Drive. If you have a Memory Card, you can use a Reader and attach it to the port.
Then you'll need to install MX Player or VLC Player from the Play Store. And with that you can play movies, songs, etc that you have stored in your Flash Disk, Hard Drive or Mem Card. This is also a good way to install .APK files.
I cannot say the limits of what the box can read. I have a 1TB hard drive and it works perfectly.
Playing 4K Videos:
Before the only system update the box has received, I never noticed the YouTube App playing videos in 4K. But there was a significant change in quality one morning, and upon checking, I noticed the video was streaming in 4K.
Chenze from AndroidKenya.com said his box didn't play 4K content.
I installed the system update… But never checked since then. I will check next month probably. I've gone through the system documentation of the box provided by its Korean makers. It has no 4K certification. Still, scaling.

— permanent irrefutable public user (@echenze) August 8, 2018
And said what I was seeing was an up-scaling of 1080p videos. Which I thought could be true. So I decided to try Vimeo 4K, and it worked, then I tried to send a 13 minute 4K Sample Video to the internal storage.
Stutters at the beginning. And then plays smoothly.

— Dickson Otieno (@DicksonOtieno) August 8, 2018
So yeah the box plays 4K videos from my experience. The stutter that I stated on that tweet only happens when I use the default Video Player. It doesn't happen when I use VLC Player. It doesn't happen when I use MX Player.
What I haven't tried is a full length 4K movie. Where does one get those? Also worth noting, is I was testing these on a TV whose maximum output is 1080p. So since the box is not stated as a 4K box…. take that however you will.
Gaming on Safaricom TV: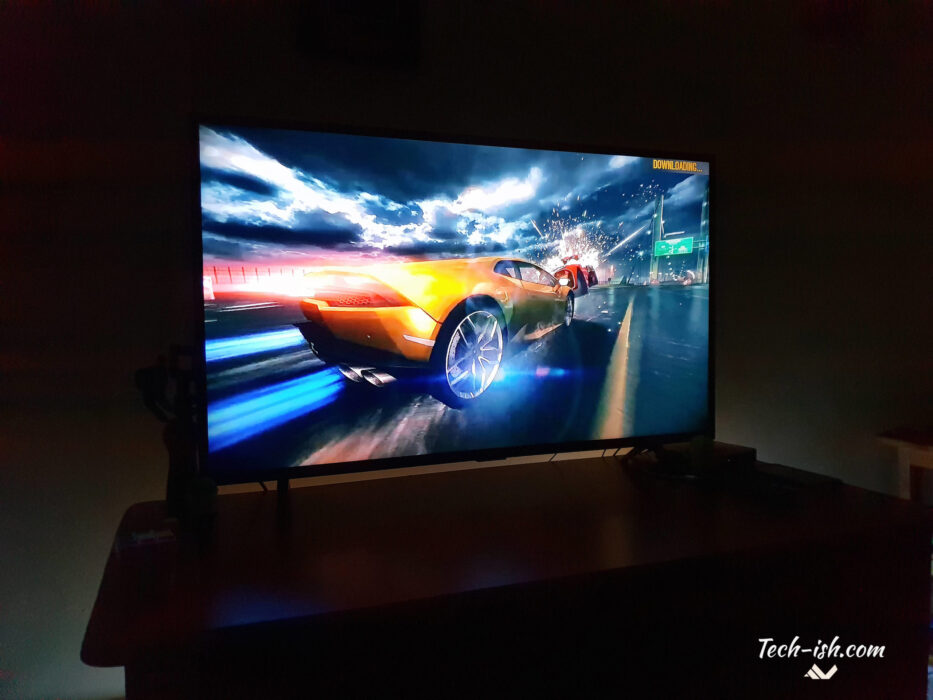 From Google Play Store, there are a couple of games that can be installed. But make sure you check if the game requires a game controller. There are many game controllers as I came to discover online that can work with Android Phones, and as such Android TV boxes.
But if you can't get a game controller (I couldn't) there are games that can work with your remote control. From a chicken crossing the road to many more.
The pic above is Asphalt 8 Airbone which I could gladly play using the remot. Talking of remotes, you can use the Android TV remotes available on Play Store.
Android TV Remotes:
The Safaricom TV remote is a very basic one. It has a power button, a simple up-down-left-right-okay navigation, back, home, menu and the volume up and down. Since I want you to check out, the AndroidKenya.com article on the box, here's their picture of the remote control:
Android TV has Google Assistant built-in. But as you can see from the Remote, there's no button for Assistant. Neither is there a microphone to allow you to communicate with the box. So, to use Google Assistant you need to use your phone. And that means downloading a Remote from Google Play Store on your phone.
Google has an official Remote. Which works well, and has a voice button. It uses your phone microphone. But I use this remote called Remote Android TV from Innovation Lab which I found offers a little more.
Fun Fact: If you have a Phone with that IR Blaster, then you'll never need a remote for both your TV and your Android Box.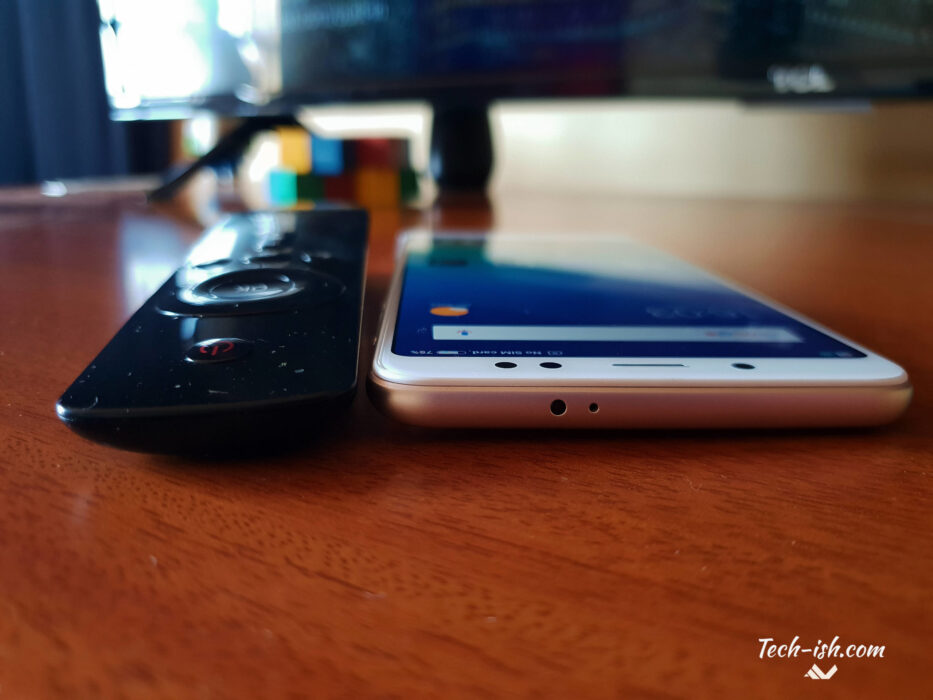 Google Assistant on Android TV:
There's very little you can do with Assistant on the Safaricom Box. First of all you can only call Assistant while on the Home Screen. Secondly all searches it gives you are limited to YouTube and Netflix. And since you already can't access Netflix on the box… I cannot search for pictures, I cannot search for apps.
Chromecast (Google Cast) Problems:
Google Cast doesn't work on my unit. I've tried and tried. Error I keep getting is: '…connection to SFC…(Name of the Box) has ended' whenever I try casting. I've seen this is a problem people are facing online with other Android TV boxes too. A couple of people with the Safaricom TV box have also complained. But many seem alright.
.@DicksonOtieno someone else has an issue similar to yours… Casting is not working. Are you guys setting up the boxes correctly or what am I missing? https://t.co/0zGWezTSdv pic.twitter.com/Pafn84EKkn

— permanent irrefutable public user (@echenze) July 16, 2018
But YouTube allows a connection where you can link the Android TV app to the smartphone App using a code. Go to Settings on the YouTube App on your TV, Link with TV Code, and then enter that code on your YouTube Phone App under Settings -> Watch on TV.
Spotify also has Spotify Connect which seems to link automatically so that you can control the app on TV from your phone without casting.
Things like mirroring my phone screen, casting videos from my Players, or casting Deezer, Google Photos, etc. haven't been working for me.
However an App like CETUS PLAY has allowed me to cast local files to the TV. BubbleUPnP app has done a good job using the DLNA protocol.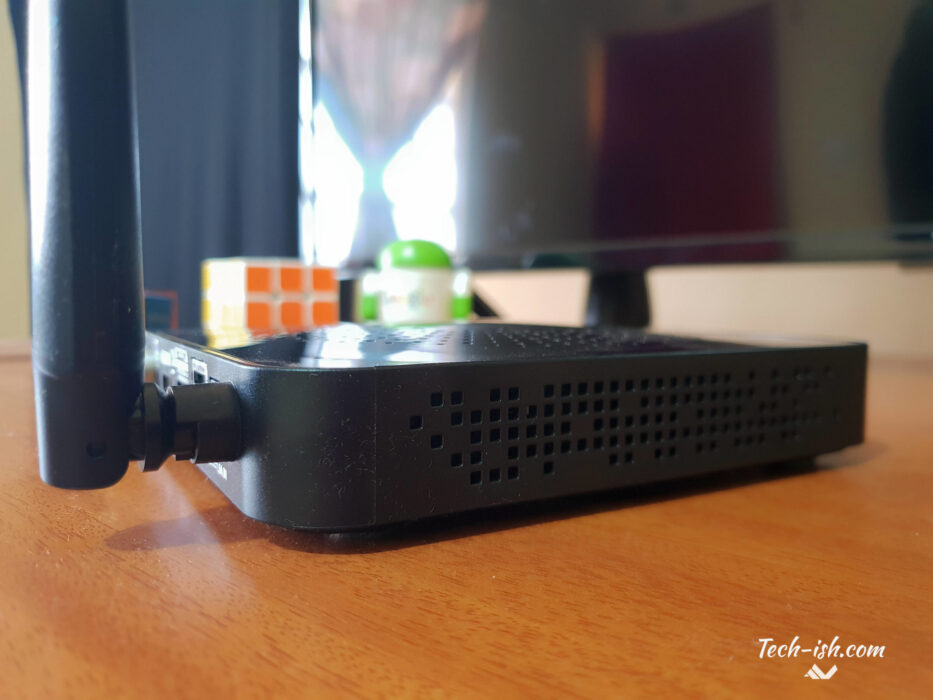 ---
Final Thoughts:
Smart TV vs Smart Android Box:
Between these two options I'd still go with a Smart Android Box. Because Smart TVs are expensive, and the cheaper TV options I've seen in Kenya aren't FULL HD.
Safaricom Box Vs Other Android TV Boxes:
Please remember, not all Android Boxes are officially Android TV. But it's not like that's a problem. As long as the box allows you to do what you want to do, then you can get it. The specsheet on Safaricom's box looks impressive, but I believe any box with 2GB RAM and even 8GB storage would be enough. I've not done anything with the 32GB storage. I have over 20GB idle.
Local Content:
I find it funny that getting local content on an Android TV box from a local company is still a problem. Yes Showmax and iFlix have local content, but I expected to see a little more action from companies like Royal Media's Viusasa.
Also,why do I have to install Deezer or Spotify for my music when Safaricom owns a music streaming service? Why isn't Safaricom's Songa available on their Android TV box?
Is it worth it?
Before the SMS which I got today morning that said the box is Ksh. 9,999 I would have said it was a worthy buy as at Ksh. 5,999 one could argue around value, it being from a local company, and much more. But at Ksh. 9,999 I don't believe it to be worth it. First of all, one of the best Android TV Boxes, the Xiaomi Mi Box 4K costs around Ksh. 8,500 from local dealers.
So 3,000 words later: If you get the box at Ksh. 5,999 then it is worth it. But if Safaricom sticks with Ksh. 9,999 then save your money for something better. Although, you should know the Box offers a little more than other boxes because it has a built-in SIM slot from which you can access Safaricom 3G/4G networks anywhere and create a home hotspot – something no other box offers.