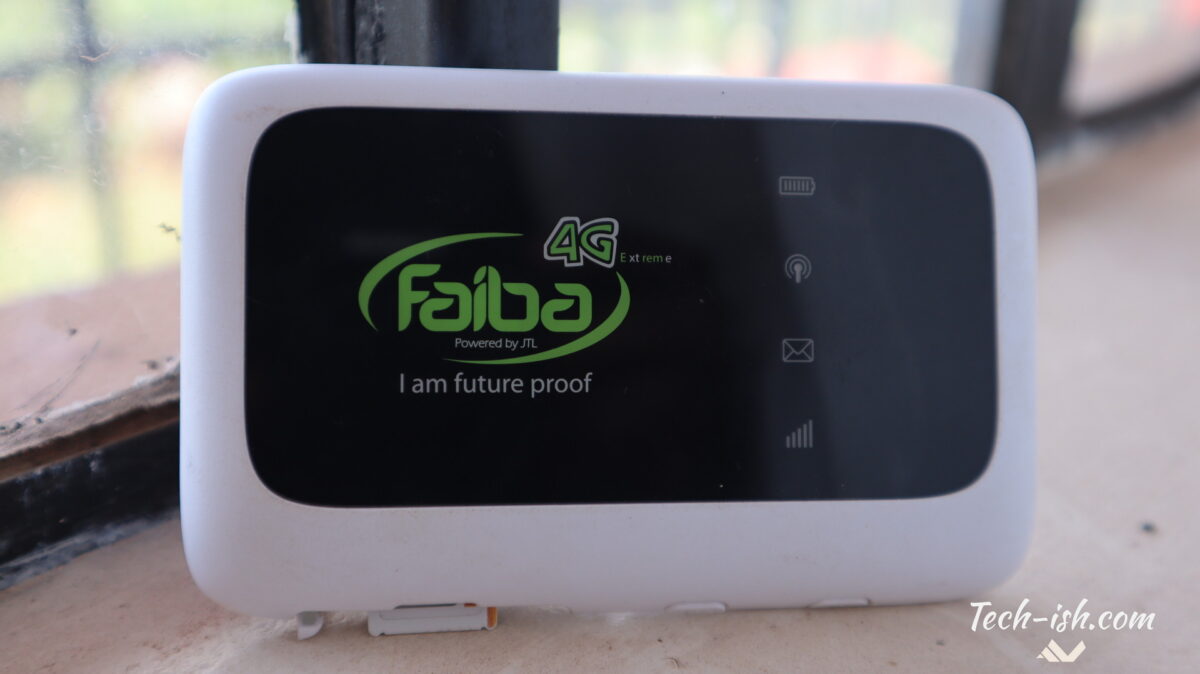 UPDATE: What Home Internet solution should you get in Kenya? A helpful guide… https://tech-ish.com/2020/03/27/home-internet-solution-kenya/
---
Faiba has the best prices for data in Kenya. And it is funny that it has been close to two years since they launched yet they've never reviewed their data prices – something other companies constantly do to stay competitive. I think it shows just how good their offer is that there's no need for constant reviewing. These are the same data prices for Faiba4G bundles since December 5th 2017.
Faiba 4G Data Prices:
| | | |
| --- | --- | --- |
| 1GB | Ksh. 50 | 1 day |
| 8GB | Ksh. 300 | 7 days |
| 15GB | Ksh. 500 | 30 days |
| 25GB | Ksh. 1000 | 30 days |
| 40GB | Ksh. 2000 | 30 days |
| 70GB | Ksh. 3000 | 30 days |
| 120GB | Ksh. 4000 | 30 days |
| 210GB | Ksh. 6000 | 30 days |
Most people are yet to use the Faiba4G network because of a couple of limitations:
network isn't supported by most phones, and even so,
the network is yet to cover most areas in the country.
If you live in an area where the network is available, but you don't have phone that supports Faiba4G, or if you just want a portable internet solution you can move around with, and share with family and friends, then the Faiba MiFi is the way to go.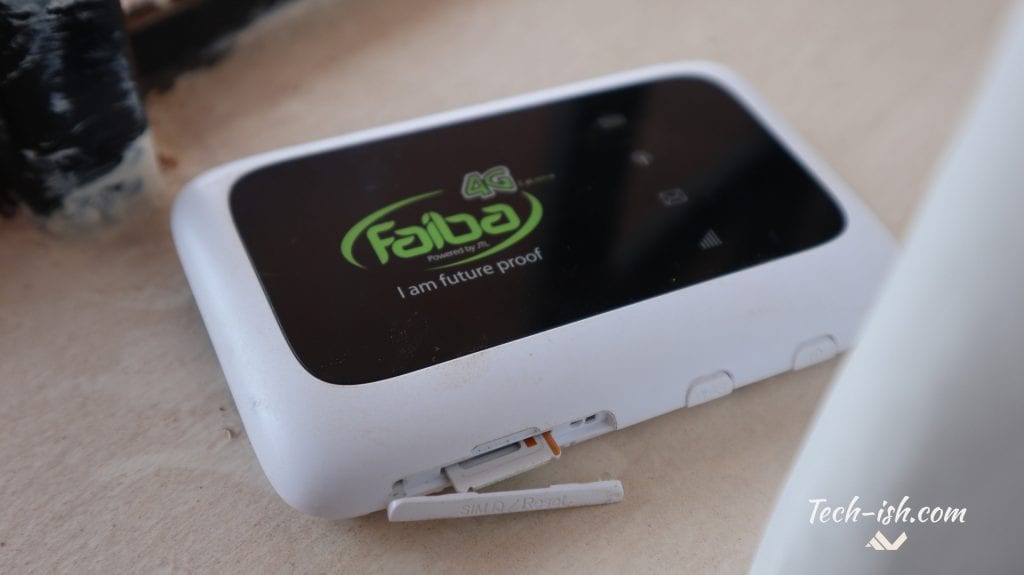 I bought my MiFi a couple of months ago when I didn't have a phone that supports the network. And having been hooked already by the cheap data prices, I felt it was a good investment over expensive data bundles from other providers. I believe even as I pass it on, it is a good device for anyone looking for a portable internet solution. So yes, the title summarises my thoughts on the device: you should buy it if you want one.
Before buying check this list to see if you live in an area where the network is supported.
NOTE: To buy data for your MiFi, you need to install the Faiba app from Google Play Store on your phone.
The price of the MiFi was KES. 5,499 when I picked it up. I still feel this is very expensive. And I still believe picking up a cheap phone that supports the LTE Band 28 is a good option over the MiFi. But the MiFi has a couple of positives over a cheap phone.
Faiba 4G MiFi Model MF910+ Specifications:
| | |
| --- | --- |
| Device type: | Faiba4G MiFi |
| GSM: | 850, 900, 1800, 1900 |
| HSDPA: | 900, 2100, HSPA+ |
| LTE: | LTE-FDD: 800, 900, 1800, 2600 |
| Dimensions (H/L/W): | 14.1 x 104 x 64.5 mm, vol. 94.2 cm³ |
| Weight: | 105 g |
| LAN: | NO |
| WiFi | 802.11b/g/n |
| Built-in antena: | YES |
| WiFi router: | YES |
| LTE Download Speeds: | 150 Mb/s |
| LTE Upload Speeds: | 50 Mb/s |
| USB: | Micro USB 2.0 |
| Battery Size: | 2000mAh |
| PRICE: | KES. 5,499 |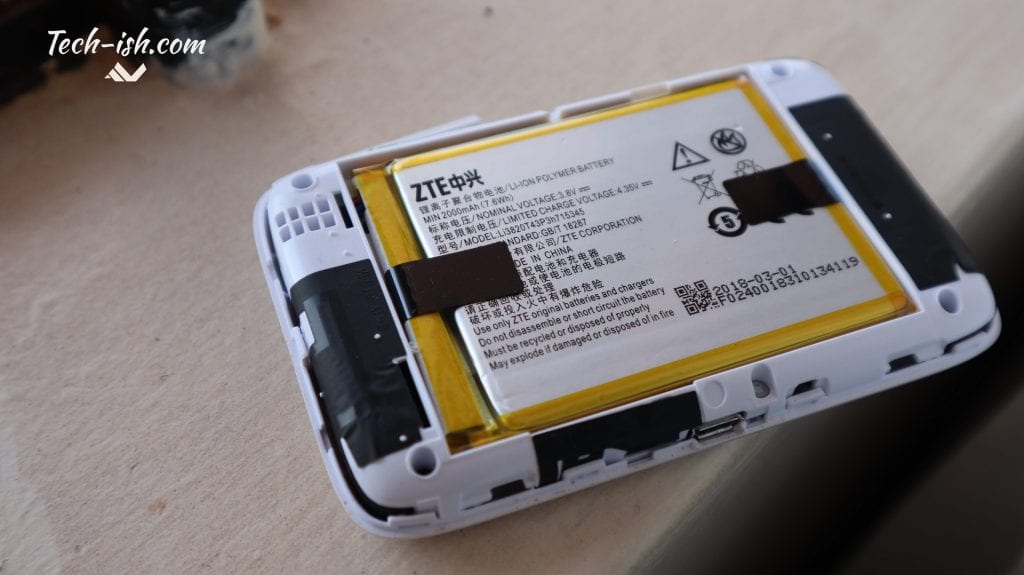 The 2000mAh battery is built in. But since the back is easily removable, one can with a little work change it in case over time it degrades. I like that it is a big battery – some people out here are carrying 70k phones with smaller battery sizes.
It normally lasts me more than a day of use. To break that down: I charge it overnight, pick it up when leaving the house throw it in my bad and go about my duties all day without bothering about it. I use the connection on my phone and laptop – so 2 devices and I get through my day without draining the battery. It has only died on me once – the day I bought it.
From the specs above, I believe it can be unlocked to work with other networks. I've not tried that.
MiFi or cheap phone?
So should you pick the MiFi for 5,499 or get a cheap Nokia phone that supports the band and can make calls? Well…
With the MiFi you need a smartphone app to buy data. If you get a phone, you can buy data directly from *544# if it supports VoLTE, or from the app if it doesn't
MiFi means no calls, just on or off and using while VoLTE supported phones means calls can be made – But you're probably getting into Faiba 4G for internet only
MiFi means battery is only used for the internet and should ideally last longer than a cheap phone
MiFi ideally means faster data speeds.
Phone can be used with other networks. MiFi needs to be unlocked first.
MiFi means shared home or office internet
Anyway, I said I am passing on the MiFi because I will be using the Sim Card on a phone that supports VoLTE. Plus I have unlimited Saf Home internet unlike before where the MiFi was my home internet solution.
By the way, if you were considering a Home Internet solution in an area where things like Zuku and Safaricom Fibre aren't available, this is a better solution compared to Airtel's "Smart Home" router that's not portable at all.