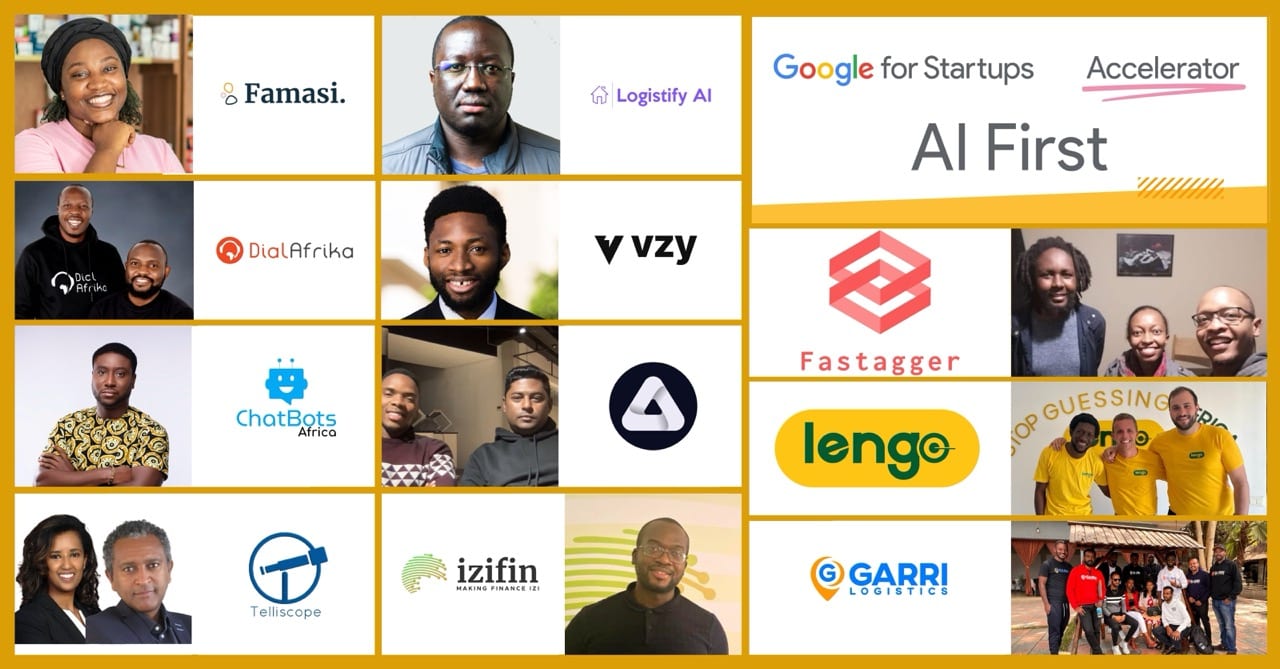 Today, Google boldly steps into a new era of fostering innovative solutions for global and local challenges, announcing the first 11 African startups for its inaugural 'Google for Startups Accelerator: AI First' program. This strategic initiative underscores the tech giant's commitment to enhancing the transformative power of Artificial Intelligence (AI) across the continent, projected by a McKinsey report to potentially add a staggering $1.3 trillion to Africa's GDP by 2030.
In a 10-week immersive journey, these startups will not only delve deep into the world of AI, courtesy of Google's unparalleled expertise but will also be propelled by a robust $350k allocation in Google Cloud Credits. Furthermore, the participating startups are set to revel in a wealth of mentorship sessions, tactical guidance, and networking opportunities aimed at magnifying their impact and market reach.
The selected startups weaving the future of AI in Africa include:
Dial Afrika Inc (Kenya): Crafting customer support tools tailored for global businesses, with a pivotal focus on African SMBs.
Fastagger Inc (Kenya): Employing AI to skyrocket sales and loyalty, supporting the growth trajectory of MSMEs.
Logistify AI (Uganda): Strategizing to minimize inventory losses in industrial facilities through intelligent solutions.
Garri Logistics (Ethiopia): Digitizing freight brokerage and transport services, ensuring a streamlined logistics landscape.
Telliscope (Ethiopia): Presenting an AI-enabled business intelligence platform, fostering data-driven decision-making.
Chatbots Africa (Ghana): Pioneering the transition of SMEs into the Social Commerce epoch with AI-driven online storefronts.
Famasi Africa (Nigeria): Developing a holistic OS for pharmacies in emerging markets, underpinned by AI.
Izifin (Nigeria): Delivering comprehensive credit infrastructure via API for burgeoning small businesses.
Vzy (Nigeria): Revolutionizing website building with intuitive, AI-driven tools that bring visions to life within minutes.
Lengo AI (Senegal): Unveiling the first Data-Driven OS tailored for the Informal Sector, sparking a new wave of digital transformation.
Avalon Health (South Africa): Scaling digital healthcare, enhancing patient-doctor interactions via innovative digital tools.
Folarin Aiyegbusi, Head of Startup Ecosystem, Africa, expressed enthusiasm and optimism for the future, highlighting, "AI is not only a powerful enabler but also a major platform shift. We at Google are committed to ensuring it is easy and scalable for others to innovate with AI."
Adeola Ayoola, CEO/Co-founder of Famasi Africa, reflected on the significant stride towards realizing their vision of scaling AI-powered digital health solutions with the mentorship provided by the Google for Startups Accelerator.
Since 2017, Google has been a pillar of support for African startups, through various programs, guiding them toward collectively raising $263 million and creating over 2,800 job opportunities.
Japheth Dibo, CEO & Co-Founder of Dial Afrika, echoed these sentiments, seeing the selection into the program as a pivotal step towards making their vision a reality: "With this support and mentorship, we aim to revolutionize customer support and equip businesses across the African continent with the tools to thrive and excel."
Google, through initiatives like the 'AI First' program, continues to foster the blossoming of startups, understanding that their success is intrinsically woven into the fabric of our communities and economies. This philosophy aligns perfectly with Google's mission to help startups navigate through their evolution, connecting them with crucial resources and insights to facilitate their growth and success.