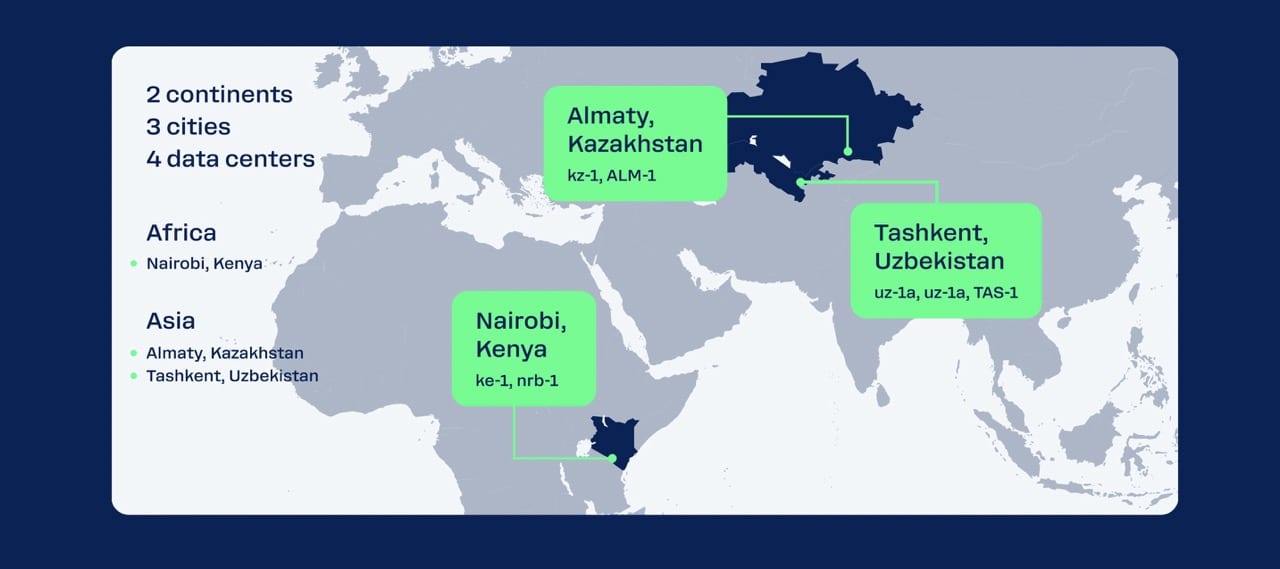 Servercore, an international IT infrastructure provider in Kazakhstan and Uzbekistan, has announced its launch in the Kenyan market today, bringing a suite of stable and scalable cloud services to a booming African market. This expansion into Nairobi, Kenya, reflects Servercore's commitment to providing businesses with the necessary tools for growth in the digital economy. The launch includes a range of services such as cloud and dedicated servers, managed cloud databases, managed Kubernetes, and more.
Servercore's decision to enter the Kenyan market is strategic and driven by several key factors:
Innovative Tech Landscape: Kenya, especially Nairobi, is a hub of innovation in East and Central Africa, known for its economic strength and dynamic technological advancements. This environment is ripe for Servercore's offerings, considering the vibrant startup ecosystem in the region.
Mobile-Centric Innovation: A report by GeoPoll highlights Kenya's remarkable mobile penetration, exceeding its population by 10% as of June 2020. This surge is particularly significant in sectors like fintech and Internet banking, showcasing Kenya's leadership in mobile money services and digital transformation.
Ascending IT Sector: The Kenyan IT sector is rapidly growing, with internet penetration at 35% and a top-seven ranking in Africa. Driven by a skilled workforce, increasing IT demands from businesses and the government, and a conducive business environment, the sector is a significant contributor to the national economy and attracts foreign investment.
However, Kenya faces a gap in local IT infrastructure providers, with businesses relying mostly on global providers without a local presence. This is where Servercore steps in, especially in the context of Kenya's 2019 data storage laws that require local data storage solutions. The Kenya National Digital Masterplan 2022-2032 supports this direction, advocating for local cloud services for government and private sectors.
Victoria Kleinbort, the Country Manager for Kenya at Servercore, highlights the immense potential in Kenya's tech landscape, noting the country's increasing internet penetration, tech-savvy population, and supportive government policies. Additionally, Kenya's strategic position as East Africa's gateway and economic hub makes it an ideal location for Servercore's launch.
Servercore's product offerings in Kenya and Africa are comprehensive:
Reliable Infrastructure: With dedicated and cloud servers featuring auto-scaling capabilities, Servercore ensures stable performance and adaptability.
PaaS Solution Ecosystem: The company provides managed cloud databases and Kubernetes, ensuring IT infrastructure availability across various regions.
Localized Consultation & Support: Through a partnership with iColo, a Tier III data center in Nairobi, and a local office providing round-the-clock technical support, Servercore ensures uninterrupted digital services for its customers.
Optimized Costs and Control: The control panel allows for resource adjustment based on demand, with payment options in Kenyan shillings, independent of exchange rate fluctuations.
Data Security and Certified Security Standards: Features like load balancing, backup options, basic DDoS protection, and compliance with ISO standards and PCI DSS requirements ensure data security and business continuity.
Josephine Kabura, Business Development Manager for Kenya at Servercore, emphasizes the company's role in empowering Kenyan and African enterprises in realizing their digital ambitions. With its affordable pricing, robust infrastructure, and comprehensive solutions, Servercore is positioned as a reliable cloud partner for local businesses.