Two days ago WhatsApp announced their new App targeted at Small Businesses who want to directly communicate with their customers. Currently the app is only available for Android users and in select locations in the world. It will be available for iOS in the coming weeks as it also becomes available worldwide.
WhatsApp Business App offers features akin to a Facebook Business Page. Meaning a business will show its working hours, link to its website, business description, what they offer, and their location.
Businesses will need the new app to contact customers. However customers, that's us, will continue using the normal app for all activities. Messages from Business Accounts will be properly marked and one will know this is a business contacting you.
One will be able to block business accounts as well as report them as spam. Businesses will also only be able to contact customers who provided their contacts and agreed to be contacted. So, hopefully this will reduce unwarranted promos and spam messages.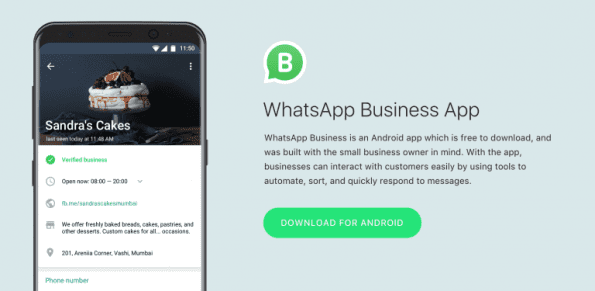 But WhatsApp will be verifying businesses in the course of the roll out. Meaning you'll see a verified green badge when a verified business contacts you.
If you're a business and you want to be verified on WhatsApp, one of the main things to make sure is the number you sign up with for WhatsApp business is the same number your business is registered on.
Best things:
Over a billion people use WhatsApp daily. This app is therefore making it easy for businesses to contact customers directly through their favourite medium of communication. Which not only promises more business opportunities in terms of increasing orders made, sharing info on the availability of good and services, and confirming payment, but also an opportunity for businesses to better understand its customers through data.
WhatsApp will give businesses access to statistics such as how many messages were sent, and how many users actually read their messages. Businesses can also easily contact surveys, ask questions and get quick answers from their customers.
This also essentially makes advertisement much easier for smaller businesses. If a business has something new they can quickly share it with their customers.
There will also be automated messages for instant replies like greetings, introductions to business, or away messages when not available. For commonly asked questions, businesses will have quick replies to easily answer back customers.
What about Bigger Enterprises?
The business app is being marketed as an app for smaller businesses. But what about bigger companies? WhatsApp said a while back that this app will be joined in future by an enterprise version for companies with a bigger, global footprint. That's an app for companies that are available worldwide such as e-commerce websites, airlines, banks etc.
Expectedly, the enterprise features
could be baked into the same business app and rolled out as an update. But customers, that's still us, won't need see any new changes apart from being, hopefully in the future, able to communicate and buy directly from say Jumia, Amazon, Gearbest, Kenya Airways etc from your favourite chat app.
From these business features, WhatsApp will be looking to finally make money from companies and SMEs that may require extra enterprise features to reach more customers or to advertise. It'll be exciting to see how WhatsApp will handle making money without interfering with its user base.
Paying directly via WhatsApp?
Being able to contact businesses directly means being able to make orders directly via chat. Means being able to track orders and get offers easily. But there's an issue here. You will still need third party means of payment like MPESA or PayPal to pay for your items. And I don't think WhatsApp would want that.
WhatsApp Pay is the solution.
In India, WhatsApp Pay may be coming in the next few weeks. Apparently the system is already in its beta stages and is backed by the Unified Payment Interface of India presenting users the chance to send each other money through the app.
If WhatsApp Pay becomes a reality, this means you'll use that one app not just for chatting, but also for buying from businesses, paying for goods and services, and also sending money to friends and family.
What are your thoughts? Are you ready to start chatting with businesses, or even in future paying via WhatsApp? Incredible days ahead.