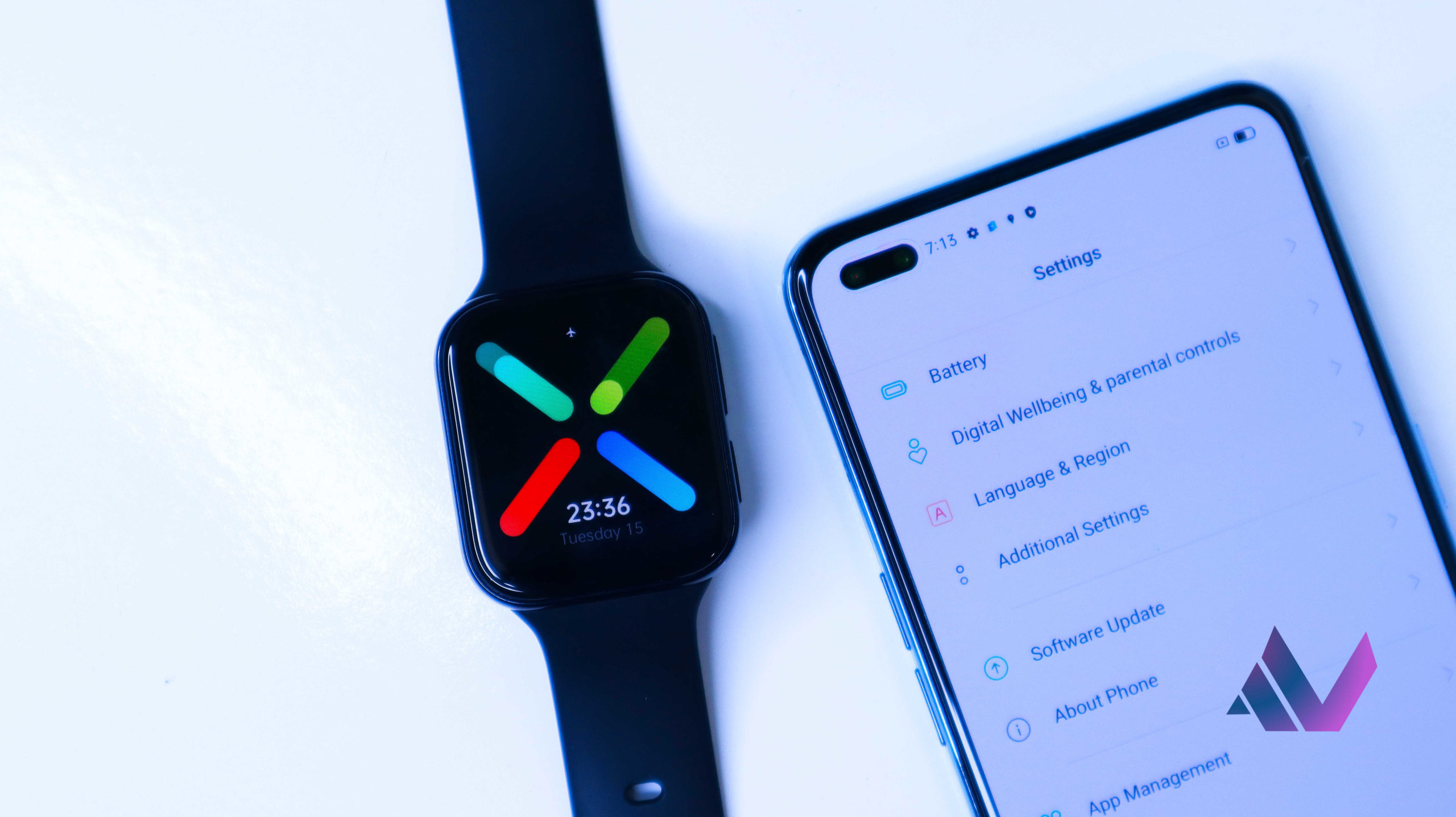 The OPPO Watch is according to many reviews one of the best WearOS devices out here. In Kenya, the set price is KES. 23,999 for this WiFi-only 41mm model. The Watch launched alongside the OPPO Reno 4 – which is a very good phone so make sure you catch my review of the same.
There are two main variants of the OPPO Watch. One for the Chinese Market running OPPO's ColorOS skin over Android. And the global model, this one, running WearOS by Google. Of course in Kenya, we get the global model.
The simple packaging is very Apple-like and inside you get the watch, a couple of documents on how to use, setup, etc., and the magnetic charger where you physically attach the back of the watch.
You can watch my review (giveaway!!!!) of the watch here:
It being the very first time for me to use a WearOS device, there's nothing I can compare it to. So I can't tell you this is a better watch than some other WearOS device say from Motorola or LG. So, let's break down my thoughts into two parts: things I've loved, and things that I didn't quite like.
The Good Stuff:
Setup:
The setup process is easy. And since it is a WearOS device, I was surprised to realise there's only one app needed, the WearOS app by Google on the Play Store.
One really doesn't need to know a lot about WearOS to familiarise themselves with the watch. It is not like a Mi Band which I feel has a fairly long setup process. I feel like anyone with who understands a phone, will set this up pretty fast.
OPPO also includes its own app called the HeyTap Health App. This offers more functionality than the WearOS app. You can use both the official WearOS app and the HeyTap Health App with any phone running Android.
Design:
This is the best part of this Watch for me. Yes, many people say it looks exactly like the Apple Watch, and to a big extent, that's true. But that's not necessarily a bad thing. OPPO emulated the design and it works for them. This device feels so premium on hand, and properly stands out when you have it on. It doesn't' have the signature crown that's on Apple Watches, however. So navigation is via swiping gestures and the two side buttons on one side.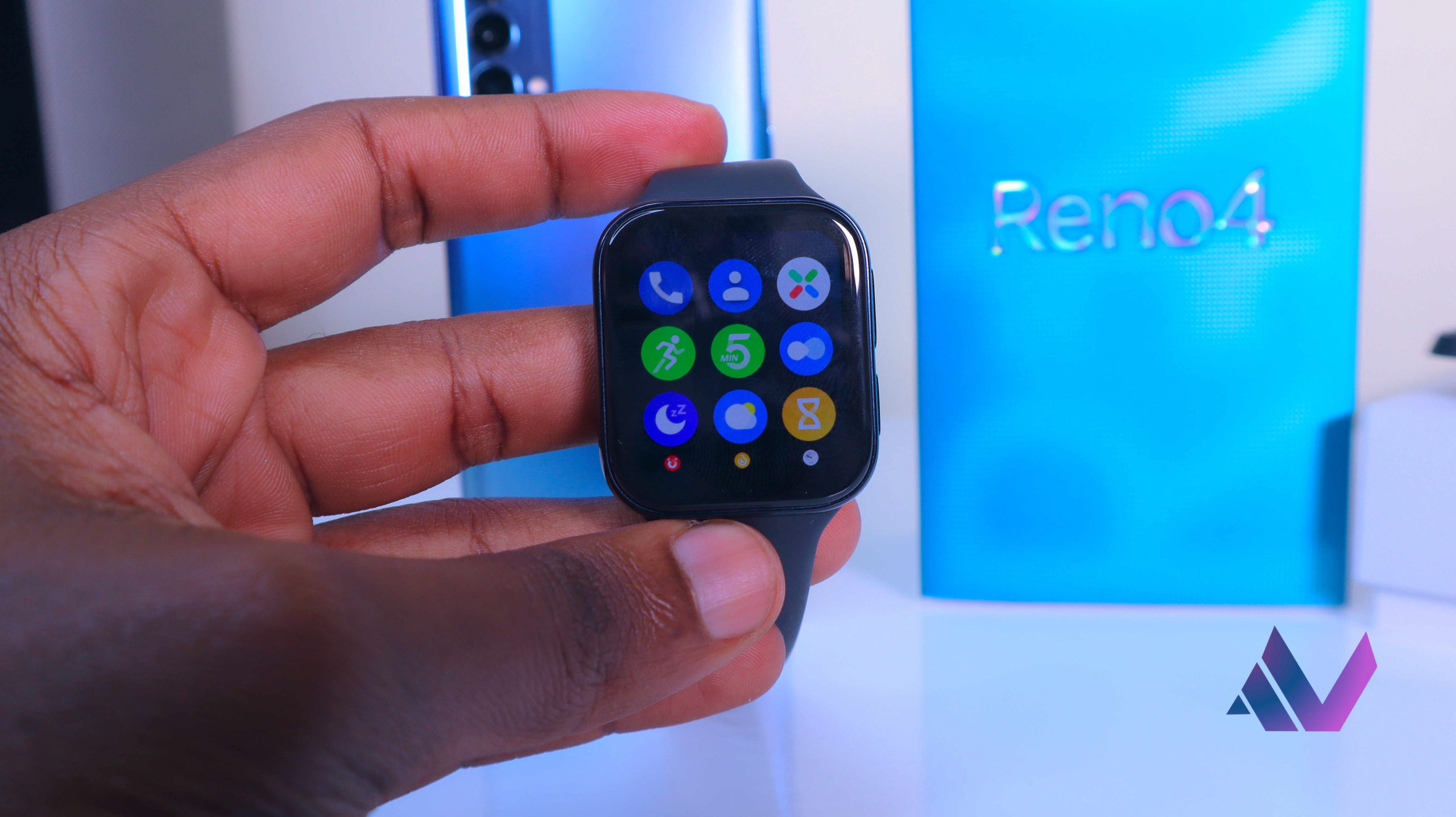 There is a speaker plus a microphone on the other side. You can indeed make calls with this watch. For some reason, people want to make calls from their watches. In fact, if you're so in on making calls from your watch, there's an eSIM version of the watch where you get to have an actual phone number attached to the watch to help with calls. This WiFi-only model also makes calls when linked to your phone via Bluetooth.
Of the two buttons, the lower one is programmable and you can set it to do one task always when you press it. I found the option to record quite nifty. So I downloaded a recorder app on the Watch, and under settings made it to open whenever I press the lower button.
When making calls, no one says they noticed I sounded different. However, the speaker isn't loud enough to be used in noisy environments. Also, why would you be using the tiny speaker on your watch in a loud environment?
Display:
The screen is good. Really good. It is an AMOLED display, and it gets very bright outdoors. The colours look very vibrant and everything pops. I fear for some people with LCD panels on their phones, this watch screen will outshine the phone's display.
The AMOLED panel allows you to have the watch always on – here everything is dimmed but you still get to see the time, though panel never goes off – giving it the feel of an actual old school watch. I didn't notice any serious impact of this on battery life, but I will mention batteries later on in this article.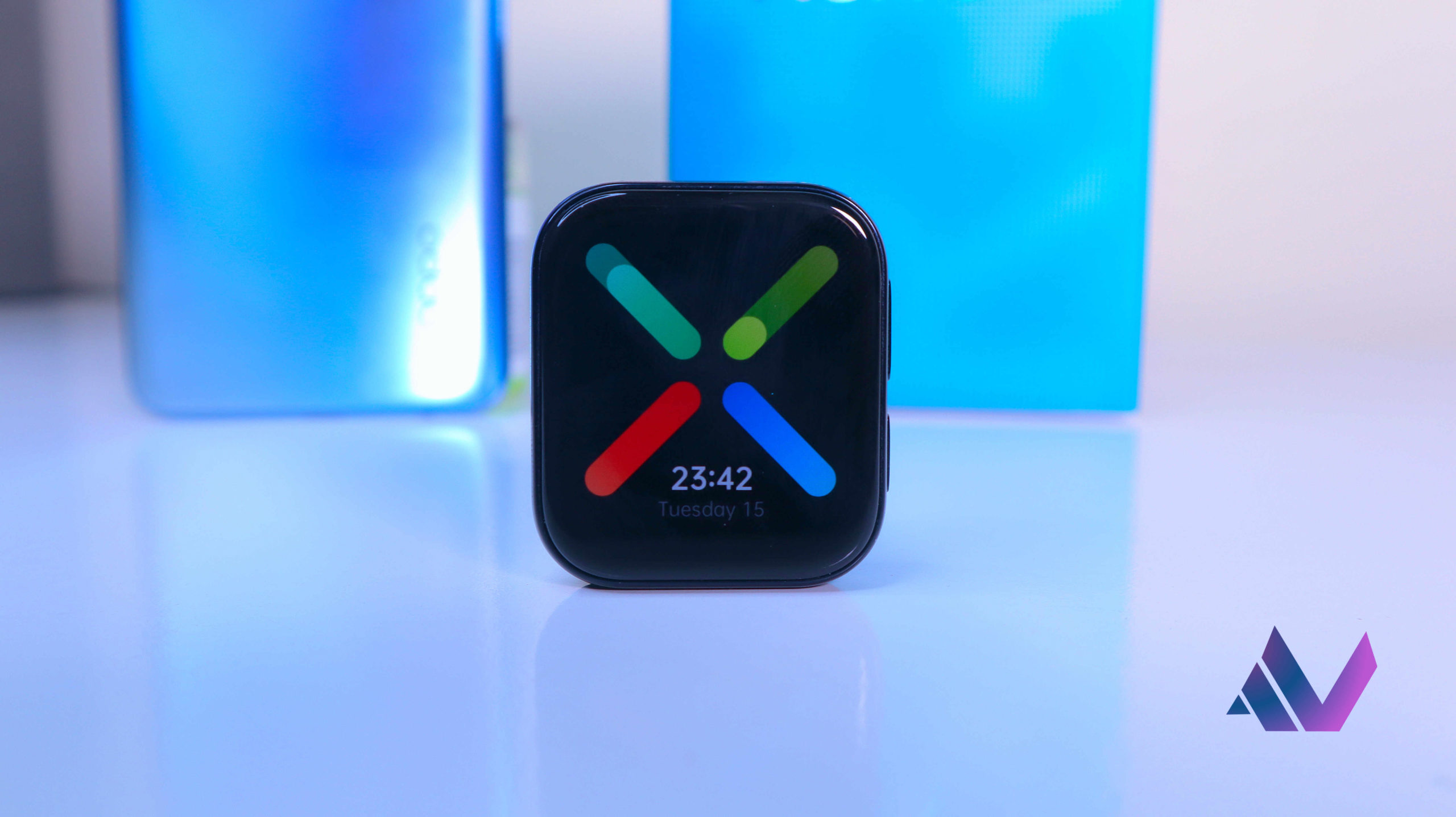 Fashion:
With the good looks of the watch, this will obviously be for many, more of a fashionable item rather than a tech product. Don't get me wrong, you can use the watch for a lot of things, including health, sleep recording, heart rate, steps counter, cycling, swimming, and much more. But mostly, you'll have it on as a fashion accessory.
The extra app by OPPO, HeyTap Health, allows one to do a lot more on the watch including changing watch faces. There's even the option to customise a watch face based on the items of clothing you have on, so as to match everything out when going out. Check out the video to see how it does this.
The straps of the watch are interchangeable, though OPPO Kenya hasn't, as of writing this, shared any information on where people can buy other straps.
The Not So Good Stuff:
WearOS App is limited:
I am used to the Mi Band 5. It doesn't look as good. And is also way cheaper. But, you can get so much data from the app unlike with the WearOS app which offers you almost nothing. To get data from the OPPO Watch, one has to get the HeyTap Health app. And though that's not an issue, it is annoying since you can't setup the watch without the WearOS app.
I wish to be able to see all the important data from one app. I know I can get stuff if I open my Google Fit app on the phone as data will sync to your Google Fit account. However, this only happens if you enable it in the Watch Settings – which is also quite hidden, and you have to tinker around.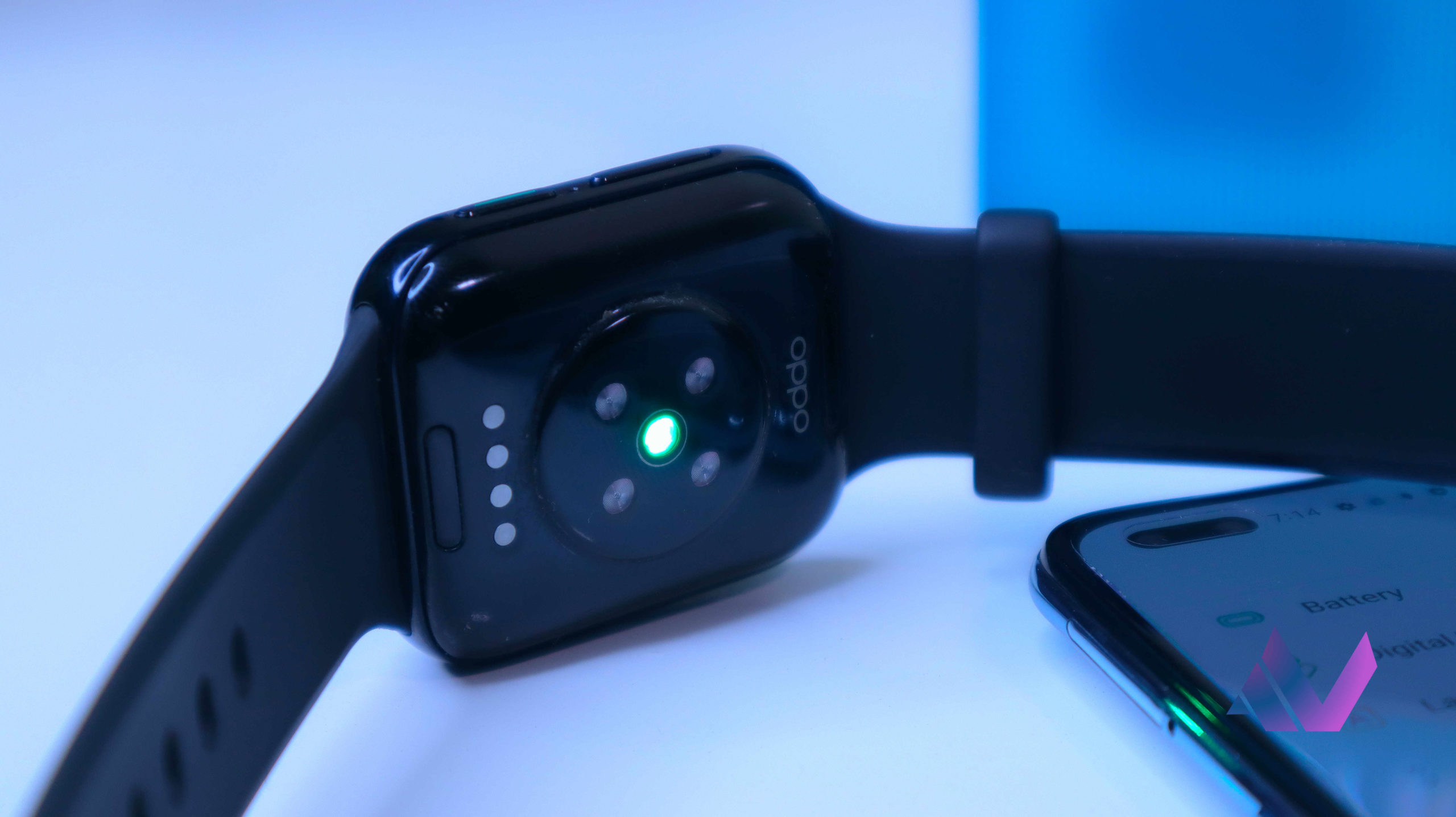 Battery:
Moving from a watch I charge once every two weeks, you can imagine my shock when I realised, I'd have to charge this watch every day. This was a weird realisation. My Mi Band goes on for 2 weeks unbothered.
However, we need to understand a couple of things here:
The 430mAh battery on the OPPO Watch is big
WearOS is heavy and demanding
If most WearOS features are disabled, you get better battery life.
WearOS has so many services running. It feels like it is a whole Android phone on a tiny screen. And that's not battery efficient at all. I wonder what logic it is for Google to have so many services running all at once in the background.
OPPO's Power Saver Mode allows you to kill all WearOS functionality and just retain a couple of things – the main watch face, the heart rate monitor, and steps counter. That way, your device lasts much longer on one charge. However, you're so limited in what you can do, and how you can customise it when in this mode.
PRICE:
For KES. 24,000 this is a very high-end product for the Kenyan market, that's undeniable. But it is worth the price given the design, the material used, the protection on the screen, and the functionality. OPPO's asking price is very much worth the watch you're getting: A high-end, fashionable, expensive piece of hardware. So, go ahead and buy it!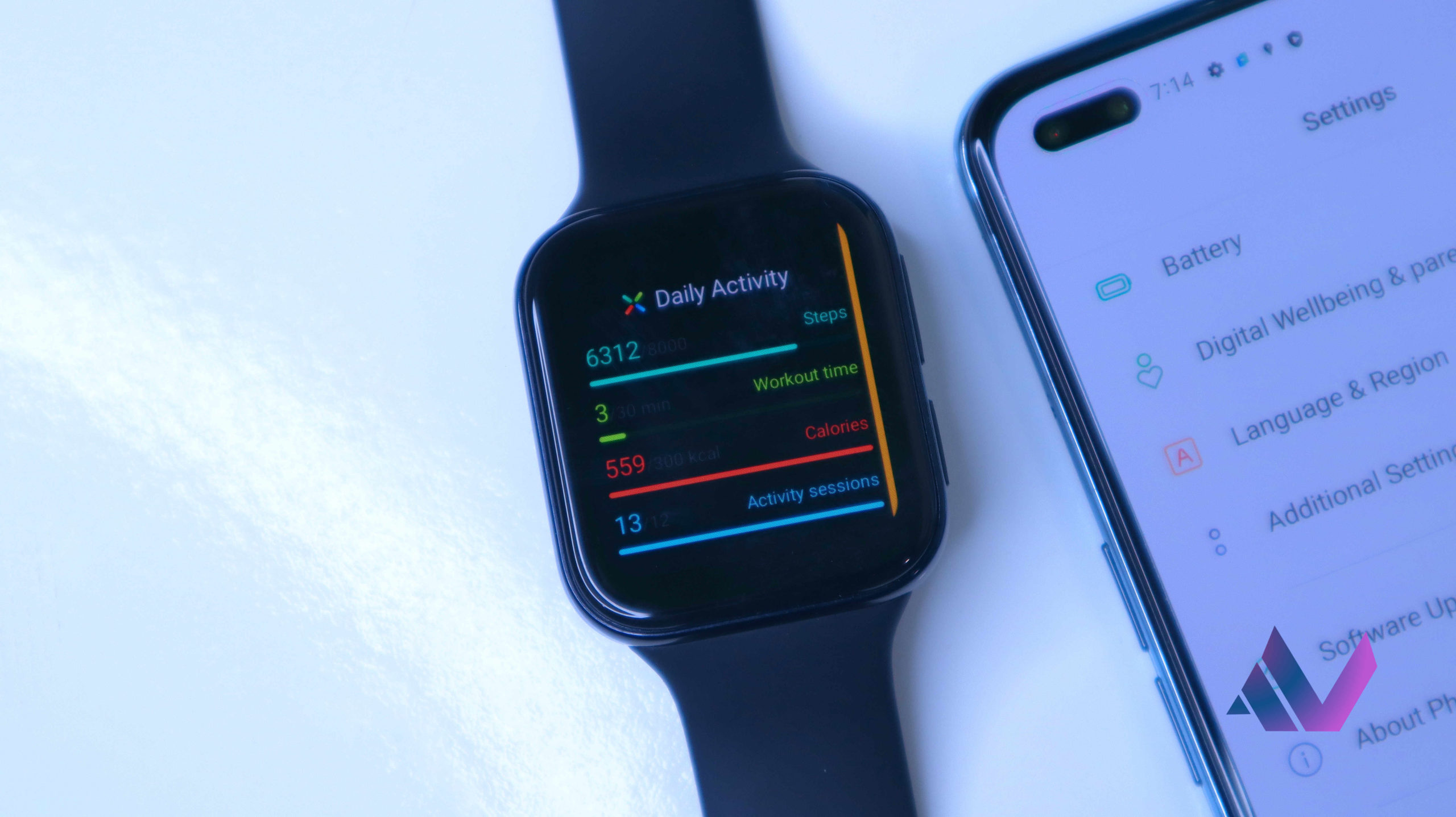 OPPO Watch Specifications:
PRICE
RRP. KES. 23,999
Display
1.91 inches AMOLED 402 x 476 pixels {~64.7% screen-to-body ratio}
Protection
Corning Gorilla Glass – 41mm version
Schott Glass – 46mm version
Body
Glass front,
Stainless steel frame OR
Aluminium frame OR
Ceramic/sapphire crystal back OR
Plastic back
Water Resistance
46mm Model – 5ATM water resistant
41mm Model – 3ATM water resistant
Sensors
Tri-axial acceleration sensor
Gyroscope
Geomagnetic sensor
Barometric sensor
Optical heartbeat sensor
Chipset
Qualcomm Snapdragon Wear 3100 (28 nm)
GPU
Adreno 304
RAM
1GB RAM
Storage
8GB Storage
(eMMC 4.5)
Operating System
WearOS by Google
Battery
Li-Ion 430 mAh, non-removable
Network
LTE – only the 46mm version – eSIM
WiFi Only – the 41mm version
Connectivity
Wi-Fi 802.11 b/g/n
Bluetooth 4.2, LE
GPS with dual-band A-GPS, GLONASS, BDS
NFC
Colour options
Black, Glossy Gold, Pink Gold, Silver Mist
Loud Speaker
Yes – Can make phone calls
Charging
Magnetic conductor – 50% in 15mins