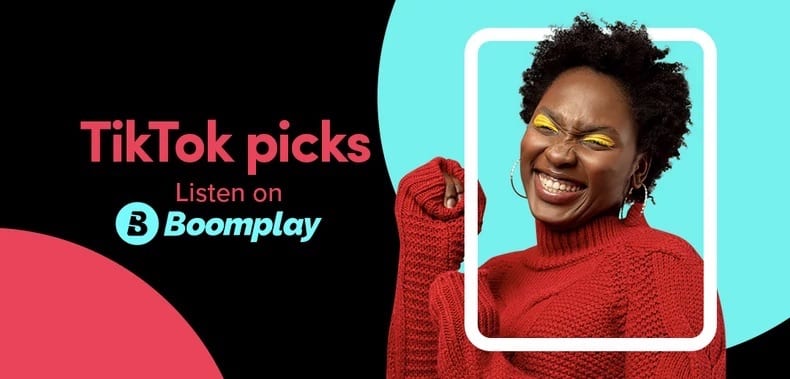 Boomplay, the popular Africa-focused music streaming and download app, has announced an exciting partnership with TikTok, the global short-form video hosting service. The collaboration aims to explore cross-promotion of trending content on both platforms through mutual playlists and content discovery. This strategic alliance is set to revolutionize the music and entertainment landscape in Africa, offering new opportunities for artists, creators, and fans alike.
This partnerships comes even as TikTok announced its own music app that aims to compete with music platforms like Spotify, Apple Music and even BoomPlay itself.
As part of the agreement, Boomplay will curate a playlist featuring TikTok's trending sounds, while TikTok will showcase Boomplay's top songs on its discovery and sound pages. This integration will enable users of both platforms to discover and engage with popular content seamlessly. By featuring the most trending songs on each platform every week, the playlists, aptly tagged TikTokPicks and BoomplayPicks, will provide a curated selection of user-generated content and songs that have garnered the most engagement.
Boomplay currently boasts over 90 million monthly active users (MAUs) and a vast catalog of more than 100 million songs from around the world. TikTok, owned by China's ByteDance, currently enjoys an impressive user base of over 1.06 billion MAUs.
The primary objective of this collaboration is to bring together the worlds of music and creativity, enabling artists, creators, and fans to connect and expand their reach. Through the partnership, Boomplay and TikTok aim to offer a more interactive and immersive experience, focused on African music. By providing a creative and fun platform for creators and content owners, this collaboration will facilitate direct engagement with their target audience.
Paul Azumah-Ayitey, the Public Relations Manager at Boomplay, expressed the company's commitment to expanding collaborations with global brands, emphasizing the importance of providing innovative avenues for artists to reach their desired audience. Azumah-Ayitey also highlighted TikTok's significance as one of the largest and fastest-growing platforms in the entertainment technology industry. The platform's creation properties align perfectly with the music community, making it an ideal partner for Boomplay.
TikTok's Head of Content Programming for Sub-Saharan Africa, Boniswa Sidwaba, recognized the platform's immense popularity in the region. With a thriving community that uses TikTok to share their love for music, sports, comedy, trends, fashion, and the diverse culture that characterizes Sub-Saharan Africa, Sidwaba sees the partnership with Boomplay as an opportunity to encourage the creative community to continue using African music as the soundtrack for great content development. Moreover, the collaboration will help celebrate African musicians and showcase their talent to a global audience.
The partnership between Boomplay and TikTok holds tremendous potential to amplify trending sounds and engage their ever-growing user base. While users already interact with content on both platforms in various ways, this collaboration aims to enhance the experience by fostering a more creative, fun, and meaningful connection centered around African music. With their combined expertise and resources, Boomplay and TikTok are poised to redefine the music and entertainment landscape in Africa and bring African talent to the forefront of the global stage.