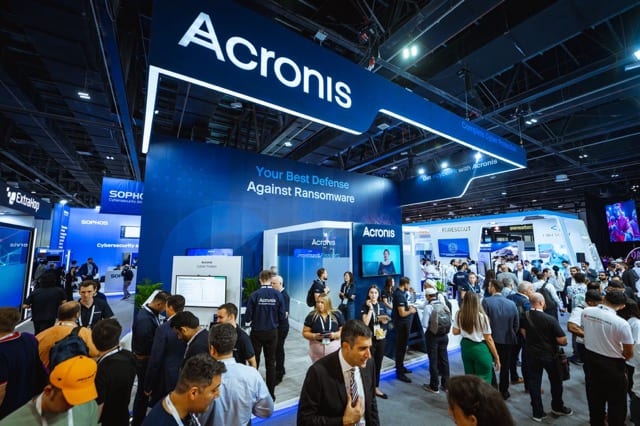 Amidst the global upsurge in cybersecurity threats, the United Arab Emirates (UAE) stands as a pillar of resilience, as revealed in the latest Acronis Cyberthreat Report 2023. The report, presented at GITEX 2023, one of the largest tech events globally, underscores the UAE's robust defense against ransomware attacks, a particular type of cyber threat that involves hijacking data for ransom.
Unwavering Defense Against Cyber Risks
Despite a challenging year for cybersecurity worldwide, with increasing incidents causing financial strains, the UAE has set an exemplary standard in safeguarding its digital landscape. The country boasts the lowest cyber infection rate in the region at a mere 10%, a testament to its stringent cybersecurity measures.
One of the most significant findings of the report is the expected decline in ransomware threats in the region by the end of 2023, a positive trend attributed to the proactive cybersecurity strategies employed by the UAE and the broader GCC region.
Rising Cybersecurity Challenges
However, the cybersecurity arena is not without its challenges. The report highlights a surge in various cyberattacks leading to substantial financial repercussions in the Middle East. In particular, the average cost of a cyberattack on organizations in Saudi Arabia and the UAE stands at an alarming US$6.53 million, significantly above the global average.
Moreover, while the region shows commendable resilience against ransomware, phishing attacks — fraudulent attempts to obtain sensitive data — persist as a formidable challenge, necessitating continuous vigilance and proactive measures.
Innovative Tech at the Forefront
Interestingly, Artificial Intelligence (AI) has emerged as a critical weapon in the UAE's cybersecurity arsenal. Over 70% of UAE businesses now integrate AI into their decision-making processes to counter sophisticated cyber threats, reflecting the nation's commitment to leveraging cutting-edge technology for national security.
The fight against cyber threats is a collective one, as illustrated by the exciting presence of Manchester City's legend, Paul Dickov, at the Acronis booth during GITEX. The event highlighted that maintaining cybersecurity is a comprehensive effort, transcending technological boundaries and necessitating unified action across all sectors of society.
Acronis: Pioneering Cyber Protection
Acronis, a global leader in cyber protection, remains at the vanguard of this digital defense. The company's presence at GITEX 2023 — complete with live demonstrations and insights into cybersecurity trends — reaffirms its pivotal role in equipping the UAE and the broader region with the tools necessary to navigate the complex cybersecurity terrain.
As the world braces for evolving cyber threats, the UAE and its neighboring regions are leading by example, showcasing that with robust measures, strategic investments in technology, and continuous education, digital safety is an achievable goal.
For an in-depth understanding of the latest in cybersecurity, GITEX attendees are invited to explore the Acronis booth located in the Cyber Valley section, H25 – C50. Here, they can delve into emerging trends, imminent threats, and innovative solutions pivotal in shaping the future of cyber protection.