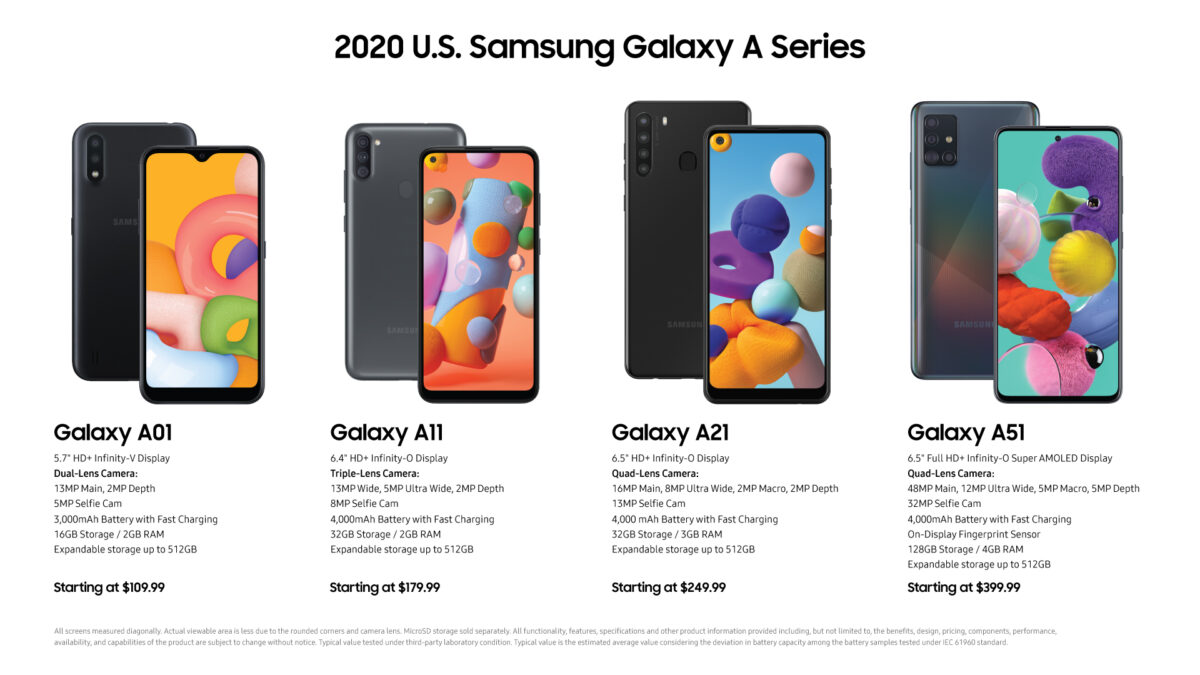 Apparently, sales for the S20 series in America haven't been as expected. Maybe it's the current situation worldwide stopping people from spending money. Or maybe it is just that the series was underwhelming.
However, Samsung's recent announcement of 6 new budget phones for the US market shows that the company is looking to ensure they stay on top even as people refrain from expensive devices. Samsung, I guess, is hoping that a push on budget devices is the right way to go. They're marketing the devices as having essentials that people care most about like battery life, camera quality, and screen size.
The new devices Samsung has announced for the US market are:
Galaxy A01
Galaxy A11
Galaxy A21
Galaxy A51 4G
Galaxy A51 5G
Galaxy A71 5G
In Kenya, the Galaxy A01, and A51 are already on sale in stores all over. The Galaxy A51 has been one of the most sought after devices locally in the last few months since launch. I don't expect the 5G variant to make it here because we still don't have any carriers rolling out 5G any time soon. But all these devices – in fact, all the A-series will be available in Kenya too.
One of my best devices of 2019 was the Galaxy A20. It ticked every box for a very low price. I hope the A21 keeps that trend. I know there's a new array of cameras, and I can't wait to get my hands on one.
Samsung really re-invented the A series in 2019, and it paid off so well for them locally, and internationally. I am glad they're still going all in to push the 2020 series.
The thing is, for them they only have to market hard the devices in particular regions, and many other regions will surely buy in. As long as they keep prices fair, and keep up that competitive nature, they may keep all the gains they made in 2019 and even make more strides.
However, competition is set to be even stiffer this year with Transsion, Huawei, and Xiaomi playing serious spec games with their new below $200 devices. We have seen 48MP cameras, with 5000mAh batteries and huge displays. Will Samsung be able to match these specs at the same prices? Will the A-series still feel like devices tailor-made for our local markets, or will they fade again and become expensive devices not worth considering like they were just two years ago?