In this review, we will be going in-depth on the new Vivo V25 5G which is available in the market for KES 56,999.
For the few days I've had the V25, i think what has constantly stood out is people's reactions every time I've pulled the phone out. The colour I have – called Aquamarine Blue – demands attention. It stands out, and shouts and is impressive. It also looks different indoors and outdoors.
Yes, Vivo has kept the colour changing feature we saw with the V23 5G. Only now, it's more subtle, while remaining quite exciting.
The new Vivo V25 5G is the company's latest flagship for this market.
Unboxing:
Many companies have become boring in terms of the unboxing experience, since they've removed almost all accessories. NOT Vivo.
Though the new V25 5G is priced lower than the Vivo V23, you still get an unboxing experience that's really good.
The box packs the phone itself, a pair of earphones, and since there is no headphone jack on the device you also get a Type-C to 3.5mm adaptor to help you listen to music using any wired headphones you may have.
You get a 44W charger, with a type-C charging cable, a free phone case, lots of documentation, and the SIM ejector tool.
What stands out with the Vivo V25 5G: 
So what are the standout features of this new device? Let's find out:
Design:
I think the thing that stands out immediately you get the phone out of its box is the feel on the hand, and that very interesting colour.
The phone is a glass sandwich. Meaning it's made of glass at the front and at the back, with only the frame being metal. That gives it not only this premium look, but also a lightness and fragility that impresses when you have it on your hand.
Specs:
This is the first phone I've used that technically offers 16GB RAM. You get 8GB of actual RAM, but then thanks to virtual RAM drawn from internal storage, you can enjoy up to 16GB of RAM. And this comes already enabled by default.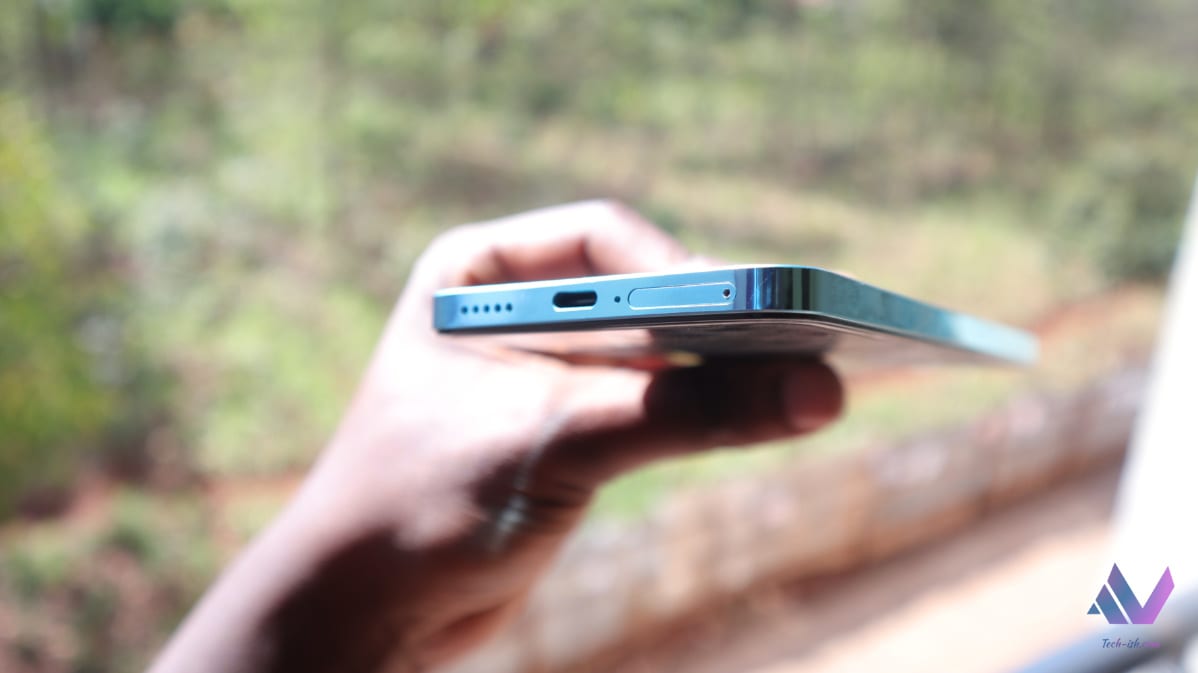 The device is powered by the Helio Dimensity 900 5G. You get 256GB of internal storage, which if not enough you can expand with an external microSD card.
Powering the device is a 4500mAh battery which supports 44W fast charging getting you to over 60% in 30mins. It will last you over a day of normal use – based on my experience.
The phone also has NFC support, dual band WiFi, Bluetooth 5.2, and an under-display image sensor powering the fingerprint scanner.
The 6.44 inch AMOLED display is impressive not only because it refreshes at 90Hz, but also because it is HDR 10+ certified, with the ability to reach 1300nits of peak brightness. If a compact phone is what you want, this will feel like one despite packing specs worthy of larger screen devices.
Software:
I think Vivo has made some significant changes to FuntouchOS now compared to my last time interacting with the skin. It's now smoother, yes, but also very unique and different compared to say ColorOS.
I like that it keeps that feel of stock Android while still looking different and nice, and refined. I like the customisation options you get from navigation, to the Always ON display, to notifications and much more.
My hope is that Vivo offers support for more years for such devices, so that one is assured of Android 13, 14 and even 15 if possible.
I love a clean, almost bloatless experience. I think that's what draws me to having a device as my daily driver. Funtouch here is that stable interface, with everything in its right place, making you just flow with the phone without needing third party launchers, or apps to introduce, bypass or avoid certain features.
Cameras:
Front Cameras:
There's a 50MP front facing camera. The most impressive bit you ask? Well, it can shoot 4K videos. I've included samples in the video above.
If you create content online, be it on YouTube, TikTok, Instagram or wherever, this is the quality you'll be getting from the font camera.
The selfie camera also supports Night mode, portrait mode, slow motion, double exposure modes and more.
There's also DUAL VIEW mode, which as you can now see allows you to record using both the front and rear cameras at the same time.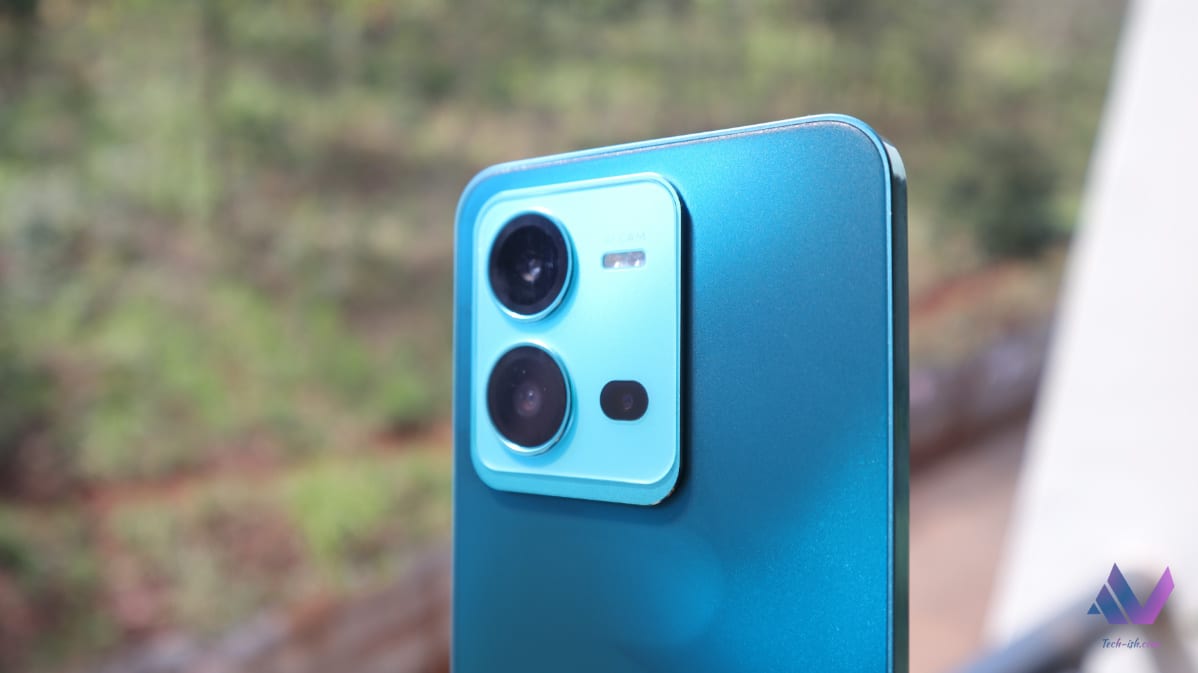 Rear Cameras:
That brings us to the rear cameras – three different cameras: a 64MP main sensor with Optical Image Stabilisation (OIS), an 8MP ultra-wide angle lens, and a 2MP lens for macro shots.
There are a ton of modes to shoot either photos or videos from. Of course you'll be spending most of your time on Photo or Video mode, but to have the most fun, do try the Vlog Movie mode, the TimeLapse mode, or the Double Exposure modes.
From the embedded video above, you can see the pictures and videos I took with the phone. None of them have been edited or retouched. Let me know what you think of them.
At night, you have to hold the camera for a few seconds as it takes different shots in different exposure levels and then stitches them together for one shot. The output is nice, and I like that it doesn't take more than 4 seconds to complete.
The 64MP sensor allows you to zoom in quite far, though the quality dips quite fast. It would have been good to see a telephoto lens included.
With OIS support, if you're a vlogger moving around your videos won't be too shaky. Your photos will also be steady even if you're capturing an action while being shaky.
Conclusion:
For me, the best thing about the phone is the software experience. I like that clean feel and look, and Vivo is offering it. An assurance of updates would be so nice.
Things that could be better with the device include the following:
I would like to see an IP rating. Yes, assure me the phone can handle dust and water.
I would love to see a telephoto lens, which even helps better with portraits.
I would very much enjoy a little faster charing, though I am not complaining.
Share your thoughts of this device in the comments section below.
Design - 8
Display - 8
Software & Performance - 8.5
Cameras - 7.5
Value for Money - 8
8
Summary
The Vivo V25 5G offers an incredibly clean UI, lots of customisation options, and a respectable camera experience. The only thing Vivo needs to do is to assure users of constant and timely updates.