News
IBM is bringing AI Magic to the Wimbledon Digital Experience
IBM Transforms Wimbledon's Digital Experience with Engaging AI Commentary and Live Match Draw Analysis
IBM and The All-England Lawn Tennis Club have teamed up to enhance the Wimbledon digital fan experience with new features that will debut at this year's Championships. The collaboration aims to provide tennis fans with an immersive and insightful digital experience by incorporating generative AI commentary and AI draw analysis.
AI Commentary:
The introduction of generative AI commentary is a groundbreaking development in the tennis world. Leveraging IBM's watsonx generative AI technology, the AI Commentary feature will provide audio commentary for all video highlights packages during Wimbledon. This means that fans watching match highlights videos on the Wimbledon App and wimbledon.com will now have access to audio commentary of key moments, accompanied by captions that can be customised based on their preferences. This innovative tool is designed to enhance the viewing experience and provide fans with deeper insights into the matches. It also marks a significant step towards expanding commentary availability beyond Wimbledon's Show Courts, where live human commentary is already provided.
The development of the AI Commentary feature involved collaboration between experts from IBM iX, the experience design partner within IBM Consulting, and The All-England Club. By leveraging foundation models from watsonx, IBM's enterprise AI and data platform, the AI was trained in the unique language of tennis. The generative AI technology built on these foundation models enables the production of informative and engaging narration with varied sentence structures and vocabulary.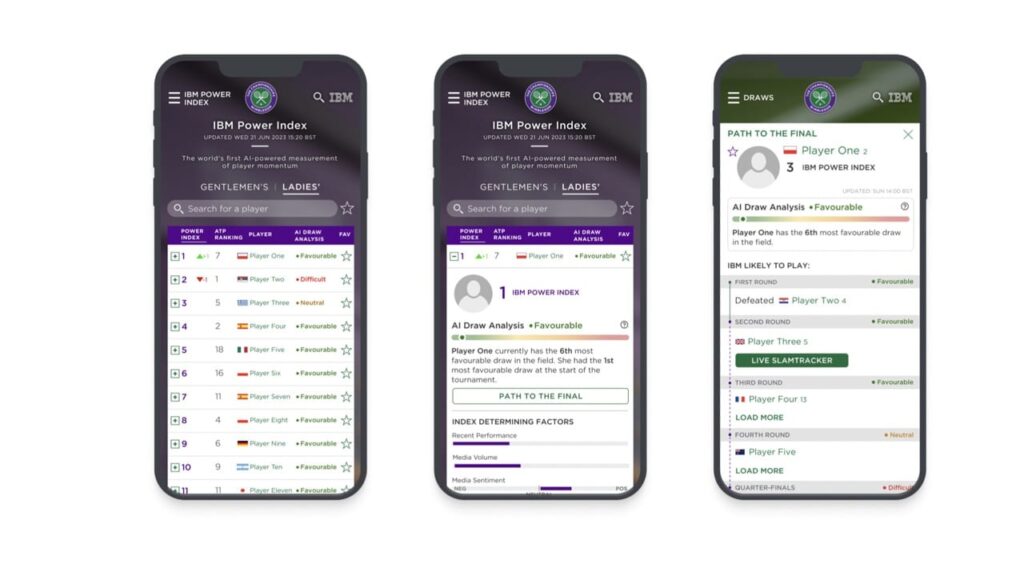 AI Draw Analysis
In addition to generative AI commentary, IBM will introduce another groundbreaking feature at this year's Wimbledon: the IBM AI Draw Analysis. This feature will provide a new statistic for tennis by utilising AI to assess the favorability of each player's path to the final in the singles draw. By considering various factors, such as potential match-ups against opponents and the player's position in the draw relative to competitors, the AI Draw Analysis will assign a rating along a scale to indicate a player's draw favourability. This new insight is expected to enable tennis fans to uncover potential surprises and anomalies in the singles draw that may not be apparent from considering only the players' rankings. It aims to spark more debate and engagement within the fan community surrounding the tournament.
Usama Al-Qassab, Marketing & Commercial Director of The All-England Club, expressed enthusiasm about the continuous collaboration with IBM to provide Wimbledon fans worldwide with an immersive and engaging digital experience. The new AI features aim to provide fans with deeper insights into the singles draw and expand access to commentary across a wider range of matches through match highlights videos.
Jonathan Adashek, Senior Vice President of Marketing and Communications for IBM, highlighted the company's commitment to leveraging innovative tools powered by foundation models and generative AI from watsonx to enhance the 2023 Championships. Adashek emphasized the transformative potential of these technologies in enhancing major sporting events like Wimbledon and helping them reach broader audiences through exceptional digital experiences. The AI and data platform used by IBM for Wimbledon is the same technology that is driving business transformation across various sectors and industries.
Other features:
The new features introduced this year will complement the existing suite of AI-powered digital tools for fans available on the Wimbledon App and wimbledon.com. These tools include the IBM Power Index Leaderboard, IBM Match Insights, and Personalized Highlights Reels and Recommendations. By analyzing over 100,000 data points from every shot played throughout the tournament, IBM's Watson AI technology on IBM Cloud enables fans to gain a better understanding of players, their performance compared to opponents, and the likelihood of their success. This wealth of data-driven insights keeps fans updated and engaged throughout the tournament.
The Championships, Wimbledon is set to take place from July 3 to July 16, 2023. Tennis enthusiasts can experience the cutting-edge technology in action by visiting wimbledon.com or downloading the Wimbledon App from the App Store or Google Play Store.