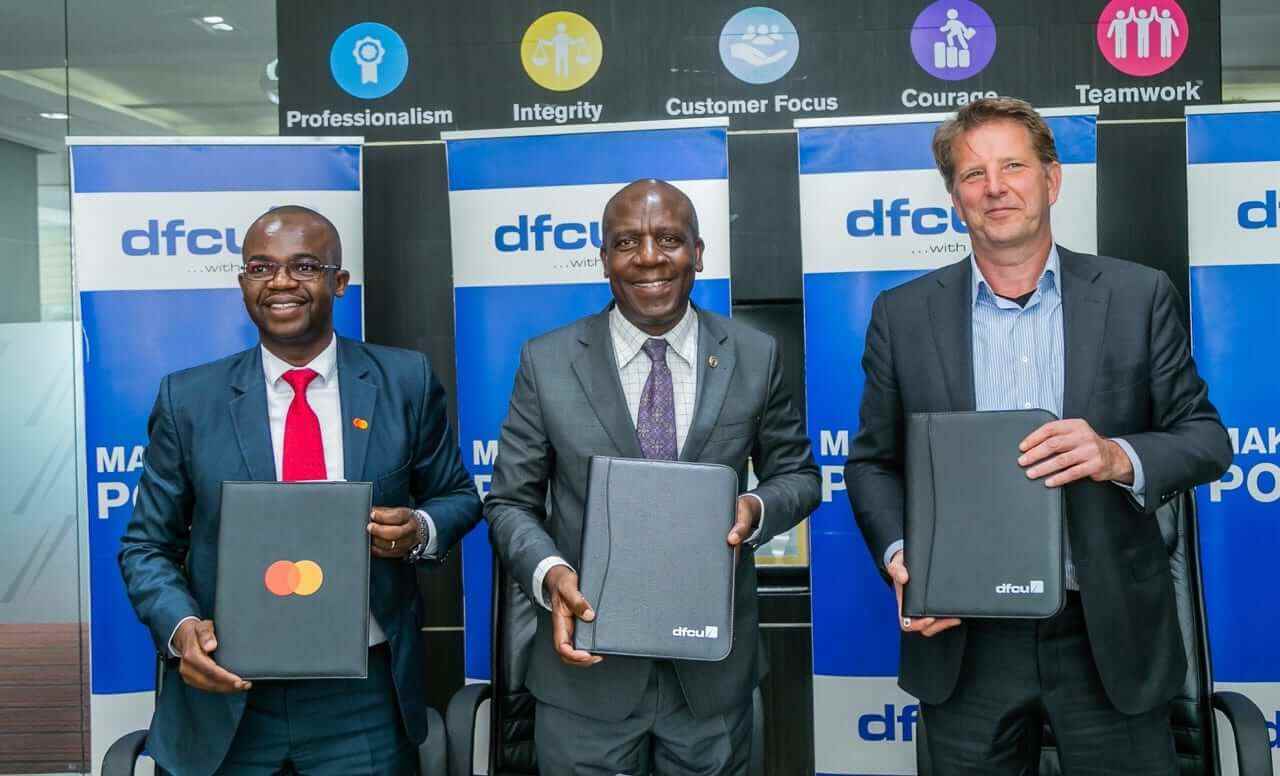 In a landmark development set to revolutionise the agriculture ecosystem in Uganda, dfcu Bank, Mastercard, and Rabo Partnerships announced a strategic alliance today. The three industry leaders have joined forces to foster the digitalisation of the farming sector, with a sharp focus on uplifting smallholder farmers and streamlining other agriculture value chain actors by improving access to markets and credit services.
Farmers and other participants in the agricultural sector have been grappling with a multitude of challenges arising from a largely manual, cash-based system. Their growth and prosperity are hampered by limited market access, lack of a financial track record leading to struggles in securing fair prices and credit, and operational inefficiencies in cooperatives and off-takers due to lack of transparency.
In a bid to remedy these persistent issues, dfcu Bank, Mastercard, and Rabo Partnerships will roll out the Farm Pass platform across Uganda. Through this innovation, farmers will register via a network of agents and gain access to a broader buyer base and tailored credit products to boost their productivity and income.
Leveraging digital tools, processes, and insights, dfcu Bank will extend financial services to farmers and farmer organizations previously deemed hard to reach, thus demonstrating the transformative potential of digitisation.
Built on Mastercard's reputed Community Pass platform, Farm Pass serves as an interoperable digital platform aiming to offer critical services to underserved, remote, and often offline communities. Leveraging a common digital identity, these communities will gain access to other services such as health, education, and commerce. Having onboarded over 2 million farmers across Africa, Mastercard's ambitious goal is to register 15 million farmers by 2027.
Rabo Partnerships, a subsidiary of the leading global cooperative bank in food and agriculture finance, Rabobank, will supplement the financial services provided by partner institutions with its knowledge, network, and digital scaling solutions. The organization has a strong presence in Africa and, through its Agriculture Exchange offering, aims to unlock over USD 1 billion in loans to smallholder farmers worldwide.
The five-year program aspires to infuse efficiency and transparency into the agricultural sector through digitalisation, addressing the gap that presently deprives farmers and value chain actors of the benefits of digitisation. The initiative represents both a commercial opportunity and a vital development need.
dfcu Bank will steer the program in the Uganda, while Mastercard provides the Farm Pass platform as part of its Community Pass suite, and Rabo Partnerships will contribute their expertise in food and agriculture banking. Together, they aim to onboard farmers onto the platform seamlessly, benefiting all stakeholders within the agricultural value chain.
"dfcu Bank has a longstanding commitment to serving Ugandans, and this collaboration with Mastercard and Rabo Partnerships aligns perfectly with our purpose. We are excited to leverage the digital tools and expertise provided by this partnership to drive financial inclusion among underserved segments in Uganda, ultimately unlocking a commercial opportunity that benefits both farmers and the agricultural industry," commented Charles Mudiwa, Chief Executive Officer and Managing Director of dfcu Bank.
Expressing similar enthusiasm, David Gerbrands, Global Head of Agri and Banking advisory services and Inclusive Business Ventures at Rabo Partnerships, said, "As part of a leading global bank in the food and agriculture sector, Rabo Partnerships is dedicated to fostering financial inclusion among smallholder farmers, extending our reach beyond large agribusinesses. Through this partnership, we are excited to contribute our expertise and commitment to driving financial inclusion in agriculture, empowering smallholder farmers to thrive alongside their counterparts in the industry."
The initiative will benefit 1.5 million smallholder farmers in Uganda over the next five years by making access to markets and formal financial services easier.
Daniel Huba, Vice President of Sub-Saharan Africa Market Development for Community Pass at Mastercard, further expounded, "Mastercard aims to register 30 million people to Community Pass, including 15 million in Africa, over the next five years. Through Farm Pass, our agriculture digital marketplace, our collaboration with dfcu Bank and Rabo Partnerships will deepen our engagement with millions of farmers in Uganda, build their digital track record, and strengthen them as micro and small businesses."
With a vision to transform the agricultural landscape in Uganda, this partnership heralds a new era of efficiency, transparency, and financial inclusion. The program is expected to catalyze a transformative journey towards sustainable livelihoods and economic growth within the agricultural sector.