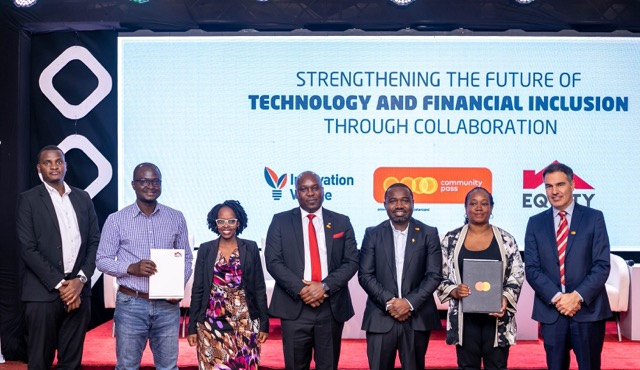 A groundbreaking partnership between Equity Bank Uganda and Mastercard has been formalised, establishing a focused initiative to propel financial inclusion among Uganda's digitally excluded individuals, communities, and businesses. The partnership, sealed with a memorandum of understanding (MoU), reflects a synchronicity of visions, with both entities harnessing the power of technology to bridge the financial gap experienced by marginalized and underserved demographics.
The collaboration leverages Mastercard's innovative Community Pass solution, as Equity Bank embarks on a mission to:
Issue financial inclusion cards, serving as both online and offline repositories of value, thus offering a secure digital platform for saving and spending.
Provide Community Pass credentials as a versatile form of identity, streamlining and enabling access to a plethora of services in a secure, privacy-focused, and economical manner.
Facilitate access to credit for individuals and businesses.
Establish a digital acceptance footprint for Community Pass, synergizing with tech companies within Uganda.
Mastercard's Community Pass represents a suite of platform services engineered to foster digital inclusion, offering a viable and commercially sustainable methodology for amplifying the delivery of agricultural, micro-commerce, aid, and healthcare services. Tailored to connect individuals in underserved, remote, and often offline communities to digital transaction solutions, Community Pass emerges as a beacon of financial empowerment.
Daniel Huba, Vice President of SSA Market Development, Community Pass, at Mastercard, expressed his esteem regarding the partnership, stating, "This partnership holds significant promise to drive digital visibility, financial inclusion, and enable credit-building opportunities and access to digital services for marginalized and underserved populations…Community Pass is designed to bridge the gap between the unbanked and formal financial services, providing secure and convenient solutions."
On the same note, Elizabeth Mwerinde, Executive Director of Public Sector and Social Investments at Equity Bank, affirmed the strategic alignment of the partnership, noting that the collaboration on futuristic payment solutions is attuned to their strategy and customer-centric commitment.
In addition to the partnership with Mastercard, Equity Bank is poised to align forces with Innovation Village, furthering the financial inclusion agenda through the Digital Economy Program.
Saul Weikama, Digital Economy Practice Lead at Innovation Village, conveyed an unyielding commitment to drive growth and bolster financial inclusion through the Digital Economy Program, stating, "By leveraging digital infrastructure and a shared platform, we are dedicated to aligning solution providers with financial institutions and industry leaders…"
The signing ceremony, held at the Kampala Serena Hotel, signifies more than a partnership; it heralds a future where financial inclusivity is not merely a vision but a tangible, accessible reality for all Ugandans, irrespective of their digital starting point. This alliance epitomizes a steadfast step towards enabling consumers and small businesses to not only participate but truly flourish within the burgeoning digital economy.
With eyes set on a future where technology facilitates inclusivity, Equity Bank and Mastercard are not just envisioning a future of financial empowerment and inclusivity – they are actively forging it.