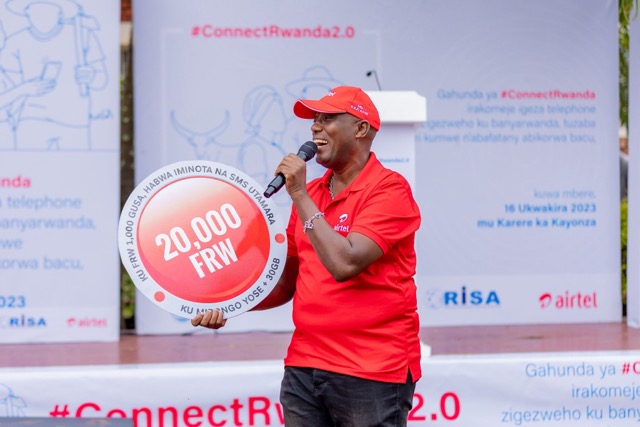 In a groundbreaking move to promote digital inclusion and connectivity, Airtel Africa, a prominent telecommunications and mobile money services provider across 14 African countries, has unveiled Rwanda's most affordable 4G smartphone. This exciting launch comes in collaboration with the Government of Rwanda, as part of the ConnectRwanda 2.0 initiative, and is poised to transform the nation's digital landscape.
Under this ambitious partnership, Airtel Africa aims to equip over 1 million Rwandans with cutting-edge LTE smartphones by 2024. The announcement was made during a press conference in Kigali, during the ongoing Mobile World Congress.
Segun Ogunsanya, the Group CEO of Airtel Africa, expressed his enthusiasm, stating, "We are proud to be part of this transformative initiative that promises to rewrite Rwanda's digitization story and give more Rwandans a reason to imagine. This partnership demonstrates our unwavering commitment to the Rwandan government's digitization drive and our belief that digital empowerment is vital for socioeconomic progress. As this affordable smartphone enters the market, new opportunities for learning, business, and connection will emerge, ultimately driving economic growth and innovation."
What sets this initiative apart is its affordability. The 4G smartphone will be available for a mere 20,000 Rwandan Francs (approximately US$16.5) with an affordable monthly fee of 1000 Rwandan Francs (around US$0.8). In addition to the cost-effective device, subscribers will benefit from 1GB of data daily and unlimited calls to any network in Rwanda, making connectivity more accessible than ever before.
Rwanda's Minister of ICT, Hon. Paula Ingabire, represented by the Director General of Digital Transformation in the Ministry, Mr. Gordon Kalema, emphasized the significance of this initiative in achieving the government's ambitious 2024 target to digitize all government activities. He commended Airtel Africa for their commitment to Rwanda's digitization vision and expressed gratitude to Mr. Reed Hastings, the co-founder and Chairman of Netflix, whose generous contribution played a pivotal role in making this initiative possible.
As Airtel Africa's affordable 4G smartphone enters the Rwandan market, it promises to be a game-changer, bridging the digital divide and paving the way for a more connected and prosperous Rwanda. This landmark move aligns perfectly with the ongoing theme of affordability at the Mobile World Congress, making it a fitting highlight amidst the event's grand kickoff.