Back in July of 2023, Safaricom announced Faraja, a new zero interest buy now pay later solution targeting M-Pesa customers and businesses. The service, which had initially faced regulatory hurdles, and at some point we even saw the launch being cancelled, brings competition to the Buy Now Pay Later market in Kenya that's seemingly quite active with the likes of M-Kopa, Lipa Later and Aspira. Faraja also brings in some competition to other loan products, even though it is playing a whole different game.
Faraja will be exclusively available for M-Pesa customers, while targeting the over 600,000 businesses that use Lipa na M-Pesa. It is the brainchild of a partnership between Safaricom and Kenya-based financial technology firm EDOMx Ltd.
How to access Faraja BNPL:
Go to the M-Pesa App
Under "Financial Services" on the "Home" tab click "View All"
Alternatively dial *799# on your phone app
How Faraja Works:
Faraja allows users to acquire products and settle payments at a later date, completely interest-free. This revolutionary approach to credit eliminates the burdensome interest charges associated with traditional loans or overdraft services.
Imagine you're eyeing a TV worth KES 50,000. With Faraja, you can bring home the TV without the need to pay the full amount upfront. After signing up for Faraja, you can visit any business already enrolled in the program and purchase the desired item. While the business receives the full payment immediately, you, as the buyer, get the convenience of paying off the KES 50,000 over a span of 30 days – with no additional interest charges.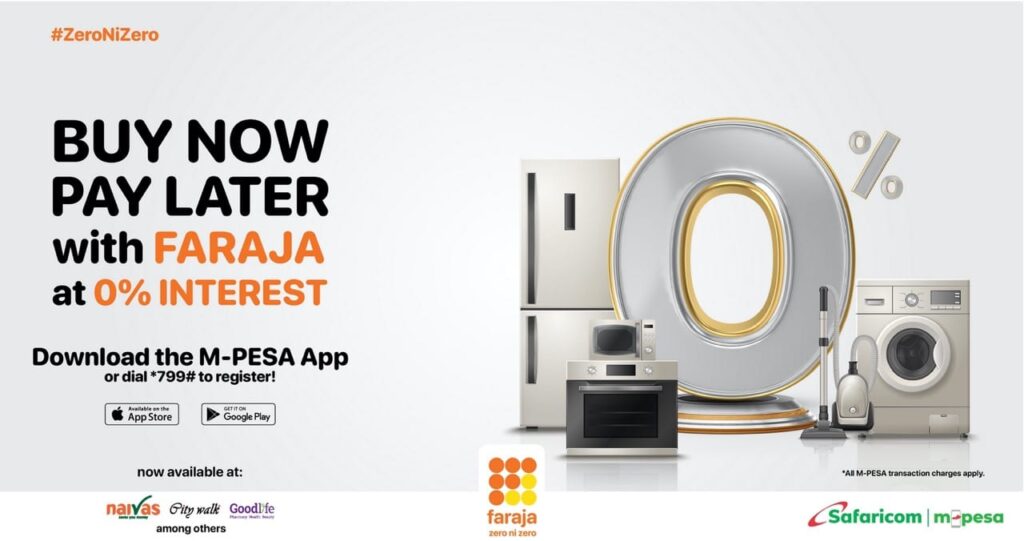 The service permits purchases ranging from 20 shillings to 100,000 shillings, allowing for various spending capacities. More impressively, users can make multiple purchases as long as they remain within their assigned credit limits.
Faraja is more than just a consumer-centric initiative; it empowers businesses to flourish by offering customers an opportunity to make purchases precisely when they need to, with deferred payment options. This strategy effectively removes the financial barrier that might prevent customers from making on-the-spot purchases, thus driving growth for businesses while providing unparalleled convenience to consumers.
How Businesses can join Faraja:
Businesses eager to join the Faraja network can do so via the Faraja portal or by connecting with EDOMx. Notably, the service is presently available across various outlets, including Naivas Supermarkets, Goodlife pharmacies, and City Walk, among other merchants. Upon a customer's payment through Faraja, businesses receive the full amount immediately, streamlining transactions and promoting a healthy business environment.
Faraja's launch aligns with regulatory guidelines and ethical practices in the financial sector. In March, EDOMx was granted the approval by the Central Bank of Kenya to operate as a digital credit provider under newly implemented regulations that prioritize responsible lending and consumer data protection.
How is Faraja different from M-Shwari and Fuliza?
It's important to distinguish Faraja from other financial services offered by Safaricom. While M-Shwari provides loans with interest, Faraja operates on a zero-interest principle. M-Shwari gives you the money. Faraja sends the money to the business you're buying from. You pay back your loan on M-Shwari with interest, on Faraja you pay back zero interest within the first 30 days.
Similarly, Faraja differentiates itself from Fuliza, an overdraft facility that levies interest charges. Fuliza allows you to complete transactions when your M-Pesa balance cannot do so. The amount is then deducted with interest once you top up your M-Pesa wallet.
Faraja's unique proposition is its focus on deferred payments without the burden of interest, making it quite an exciting solution in the realm of credit services.
Other Important things to Note with Safaricom Faraja:
M-Pesa charges apply. So when making transactions, expect M-Pesa Charges to apply.
To sign up you must be at least 18 years, and have M-Pesa working for at least 6 months.
You can use Faraja on a maximum of two phone numbers.
If you don't repay the amount, the credit limit will be lowered immediately, date or repayment may be extended, and your account may be disabled. There's no mention of any interests accruing after 30 days.
Your data will be shared between bank partners and Safaricom, read more in terms and conditions.
The Rise of Buy Now Pay Later in Kenya:
For a long time, different companies have operated Buy Now Pay Later (BNPL) facilities in Kenya, and with exhobitant markups. A good example is M-Kopa who can sell a phone at KES 60 a day and make profits of close to 200%. Having a player with zero percent interest bringing in competition is interesting. However, the issue remains the repayment period. While Faraja is good, 30 days won't be enough for many customers. And they may choose to stick with predatory companies that give them yearly repayment terms.
We will be seeing even more companies offering Buy Now Pay Later programs, including banks and Neo-banks like LOOP who better understand their customers, and have the means to offer better repayment terms.