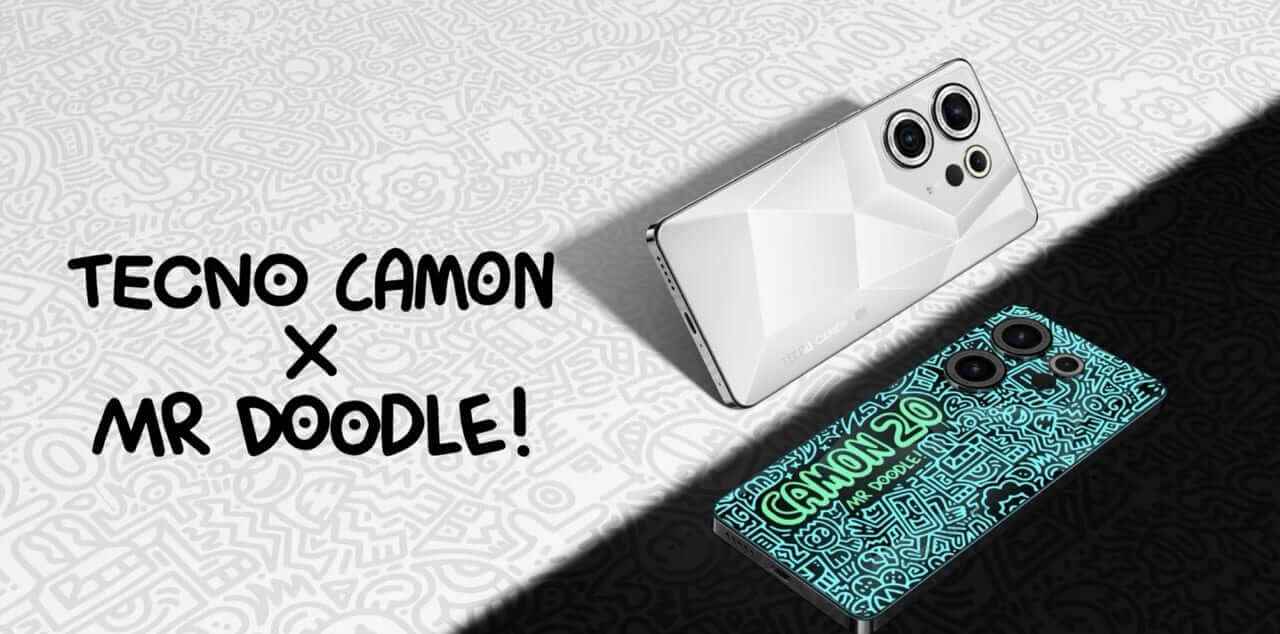 TECNO has unveiled the CAMON 20 Series Mr Doodle Edition in a grand launch event in Nairobi, Kenya. This special edition smartphone, designed in collaboration with the renowned graffiti artist Mr Doodle, combines cutting-edge technology with captivating artistry, offering consumers a unique and stylish device that redefines the boundaries of artistic expression and technological innovation.
The CAMON 20 Series Mr Doodle Edition boasts a groundbreaking feature: a world-first graffiti-style back cover that comes to life through moon phase color-changing technology. During the day, the back cover absorbs ambient light, and at night, it emits a captivating fluorescence, showcasing Mr Doodle's iconic "graffiti spaghetti" artwork. This transformation makes the phone a fashion statement by day and an attention-grabbing masterpiece by night, blending the worlds of fashion and art seamlessly.
About Mr Doodle:
Mr Doodle, whose real name is Sam Cox, is a UK-based artist who has been passionate about graffiti since childhood. His unique approach to doodling has garnered over 36 million views online, making him an internet sensation. His large-scale installations and collaborations with global fashion brands like Adidas and Fendi have established him as a millennial art pioneer. For Mr Doodle, no space is too small or too large to become a canvas, and he aspires to cover the moon with his distinctive doodles.
Mr. Jack Guo, General Manager of TECNO, emphasized the brand's commitment to combining art with innovative technology: "TECNO CAMON series has always been committed to embracing art with innovative technology that constantly breaks boundaries, and bringing consumers products both artistic and high-tech. This is in line with Mr Doodle's creative spirit of leaving no blank undoodled."
The CAMON 20 Series Mr Doodle Edition continues TECNO's legacy of pushing artistic and technological boundaries. Its 3D PGI material back cover, enhanced with a diamond-cutting design technique, produces a stunning three-dimensional effect that catches light at various angles, creating a dazzling shine reminiscent of diamonds.
The moon phase color-changing technology further elevates the device, refracting light from its surface in dark environments to reveal Mr Doodle's graffiti paintings. To complete the artistic experience, the smartphone comes with Mr Doodle graffiti-style customised wallpaper, AR SHOT, and AOD (Always-On Display) features.
In a statement, Mr Doodle expressed his excitement about the collaboration with TECNO: "TECNO's philosophy of uniting the worlds of art, innovation, and technology with modern, stylish designs is really inspiring to me. It's very exciting to see the beauty of graffiti art that can be shared with more people through TECNO's innovative product."
Beyond its artistic appeal, the CAMON 20 Series Mr Doodle Edition offers advanced photography capabilities. Equipped with Sensor-Shift OIS Anti-shaking Technology and a 50MP RGBW Ultra-Sensitive Sensor, it ensures crystal-clear portraits even in low light conditions. This device empowers users to capture special moments with unparalleled detail and clarity.
Pricing and availability of Camon 20 Mr Doodle Edition in Kenya:
The CAMON 20 Series Mr Doodle Edition comprises the CAMON 20 Premier 5G Mr Doodle Edition, CAMON 20 Pro 5G Mr Doodle Edition, and CAMON 20 Pro Mr Doodle Edition. Pricing for these unique smartphones starts at KES 28,499 for the CAMON 20, KES 35,499 for the CAMON 20 Pro, KES 44,999 for the CAMON 20 Pro 5G, and KES 61,999 for the CAMON 20 Premier 5G edition. All these devices will be available in stores starting from September 20, 2023.